Posted on: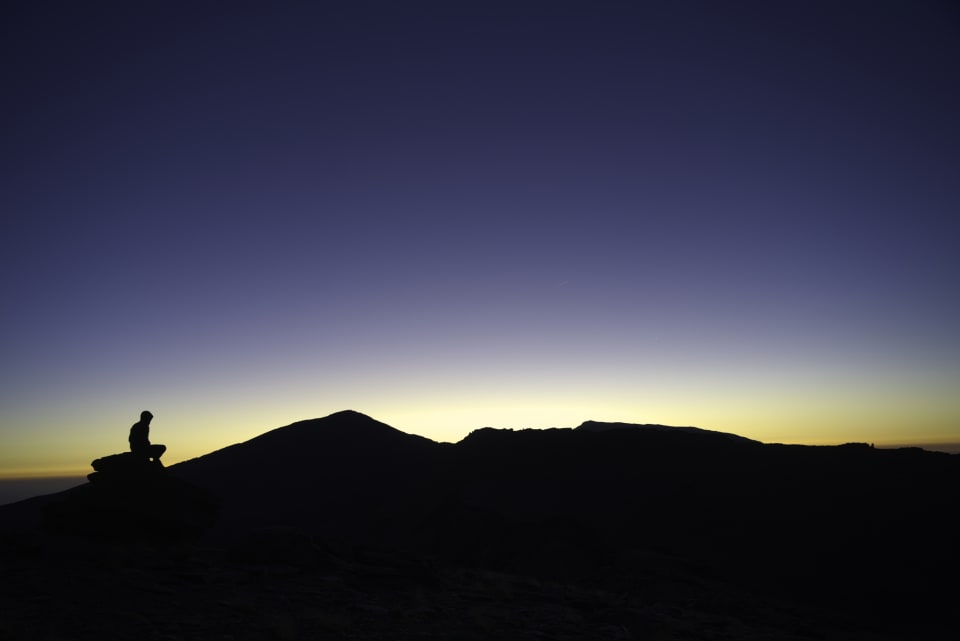 Adjective
arse about face (slang, UK, Australia, New Zealand) Placed or arranged the opposite way to the way it should be. "No wonder it doesn't look right mate, you've got the whole thing arse about face".
There's something quite appealing about doing things contrary to the norm and going against the grain. In terms of mountain travel this could mean abandoning the norm of … starting early in the morning after breakfast and finishing late afternoon in time for the pub opening!
Why not go up in the afternoon of day 1 and return on the morning of day 2. That way most people are leaving the hills as you arrive and the following day when you are leaving, they are arriving. You have still done a full mountain day, just split into two.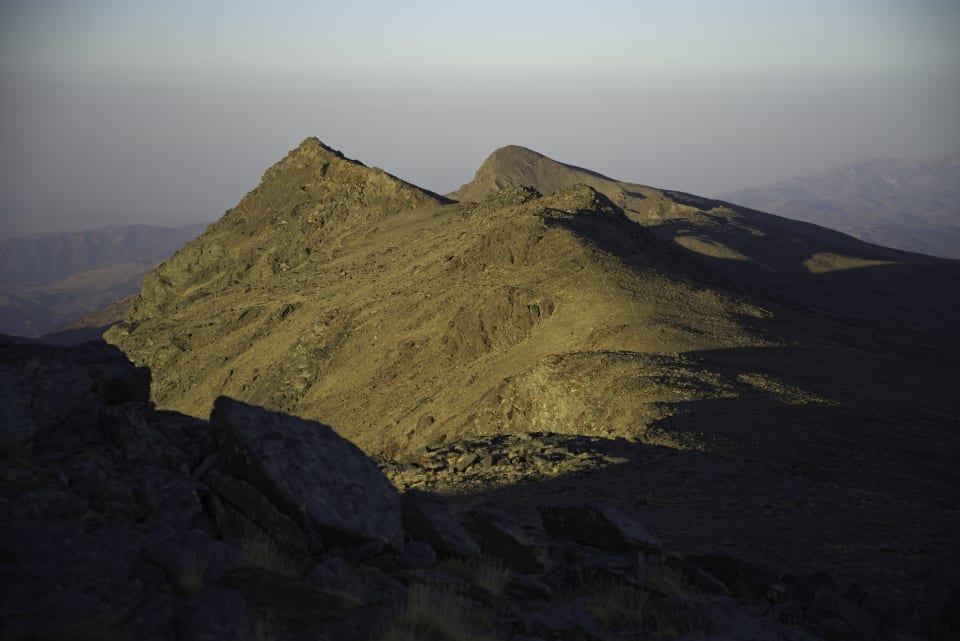 First rays of the sun on Tajos Altos and Cerro de Caballo (3009m)
I first came across this concept in the English Lake District way back in October 1988 when my friend Alistair and I, attempting to avoid the throngs of daytime mountain hikers, set off at some unearthly hour, drove to the Lakes and set off to climb Scafell Pike, England's highest mountain. We met no one in the pre dawn hours and arrived on the summit just as dawn was breaking, a wonderful moment. Then it was a dash back down. Half way back we started to meet lines of hikers ascending, by then we didn't care, we had had our just rewards already. We drove back to our hometown of Leeds to enjoy a few welcome lunchtime pints.
I have been practicing this same strategy here in Spain's Sierra Nevada during the summer months for many years. This year we have had a few overnight camps, always ascending after midday and returning early afternoon the following day. Why summer? Well, in winter I find the extra weight that must be carried, too hard for my old legs and lungs. I need to travel slower these days and with the shorter daylight hours of winter, this just isn't possible for me.
So, what are the benefits of travelling "Arse About Face"?
Less Humans, More Nature
There are fewer people around. The mountains are more silent and we can move within them enjoying the natural environment without disturbance. Birds and animals are more likely to be seen, especially in the pre dusk and post dawn hours.
When the day hikers leave the mountain peaks it seems to me as if the mountains themselves breathe a huge sigh of relief before getting back to being their normal, natural, quiet selves. The eagles come back out to hunt, the bearded vultures (Lammergeier) soar on last remaining thermals, the Spanish Ibex move to their sleeping grounds. It's magical.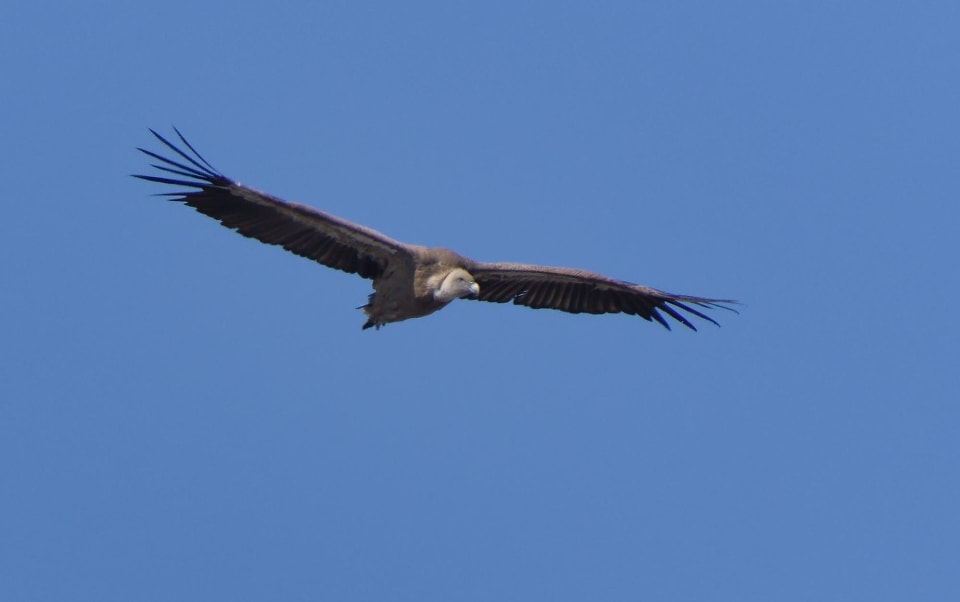 Griffon Vulture pre dusk
Best Light For Photography
Certainly here in the Sierra Nevada the light in summer if strong and harsh. The sun is directly overhead and there are few shadows or contrasts. Difficult to find photographis inspiration.
Being around pre-dusk and post dawn mean the you catch the photographers prime time for images … the "Golden Hour and "Blue Hour". Shadows lengthening and images changing.
Golden hour is the period of time after sunrise and before sunset when the sun is low enough in the sky to cast a soft, warm light. This is opposed to other times in the day when sunlight is more harsh and less colorful. Sunlight appears gold, orange, and red during this time, hence the name "golden" hour.
Similar to golden hour, blue hour is not exactly one hour. Instead, it varies based on location, the weather, and the time of year. Generally speaking, blue hour is about half an hour before sunrise and after sunset, when light takes on a blue color.
Either way being in the mountains at these times enables you to catch these exquisite moments, moments that are not available to hikers sticking to the norms.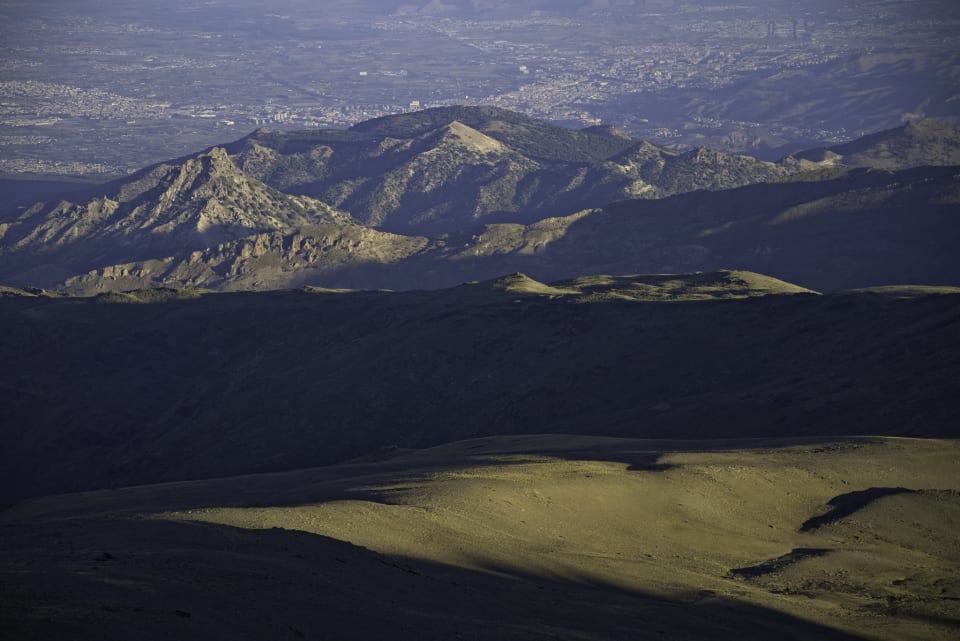 Morning Light over Trevenque and the Cumbres Verdes range
Silence and Cool Air
This benefits really only those of us living in hot countries. Here in southern Spain, the summer nights can be horrendous with 30+ degree temperatures, together with stifling heat and humidity, especially in cities like Granada, Cordoba or Sevilla.
It is also the time that the spanish locals like to party. Fiestas and Ferias compete with noisy, out of tune, bands, flamenco and endless fireworks. All lots of fun? I guess. Not for us though, as we normally have early morning starts to walk our dogs before the sun gets up.
Thus, for my wife and I, sleeping at 3000 meters means cool air and silence. Absolute bliss!
Listening to the silence at sunset
The Sky at Night
No need to be enclosed in tents. You'll miss the best bits. Groundsheet and sleeping bag are all you need. Lie there and gaze skywards. As the night sky deepens millions of stars will appear, yes millions!
We have regular meteor showers during the summer months too, particularly the "Perseids" and the "Leonids". Great to see as you peer out from your sleeping bag. The sky seems to be constantly on the move too. Planes, Satellites, the International Space Station (ISS), and also, if you are lucky, the Starlink chain cross the skies. There is certainly a lot going on.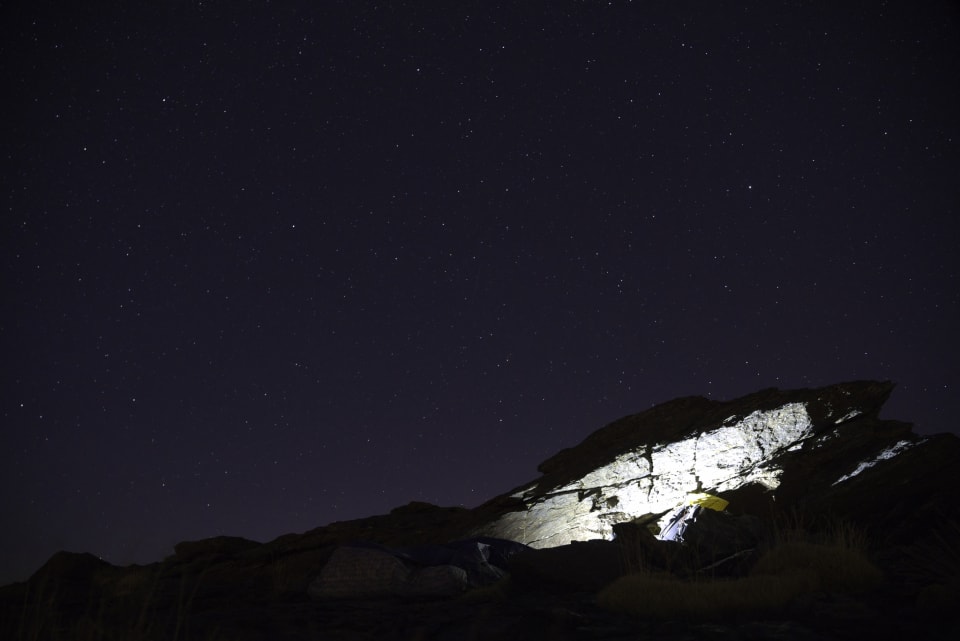 Our bivouac site on Tozal del Cartujo summit
Fine Dining
This is maybe a bit controversial but yes, "fine dining" can be had. I don't know about you but all my taste buds are activated at night in the hills. I really enjoy my food. Even our freeze dried, just add boiling water, mountain meals taste good. You can eat with 360 degree dramatic views in all directions and the morning coffee sat beside a mountain stream tastes superb.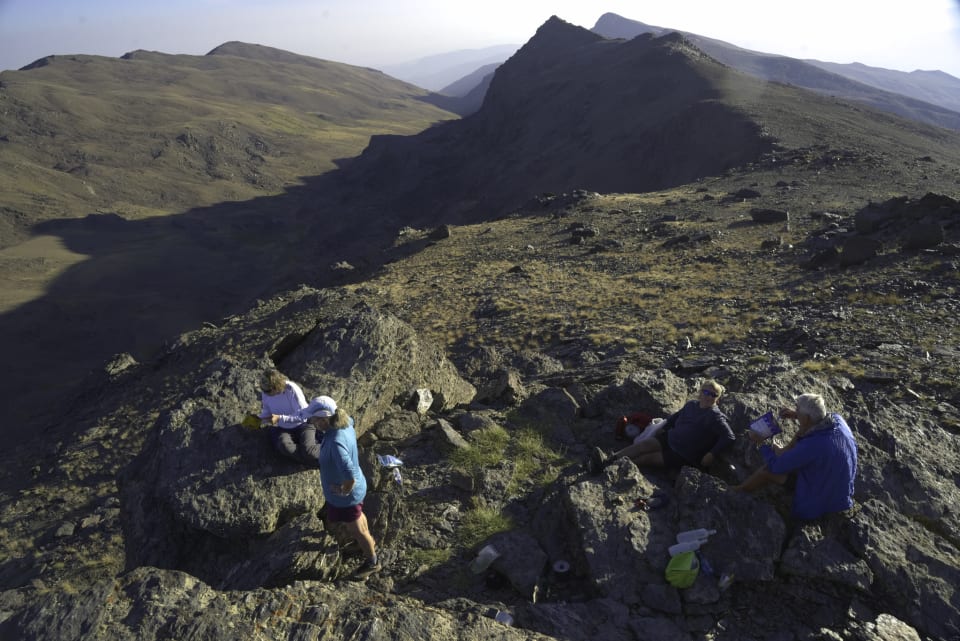 Eating out at the fantastic, Restaurante Cartujo!
Images from two recent trips
Vasar de Mulhacen, Collado de Siete Lagunas
Smugmug Photo Album
A night on Tozal del Cartujo
Smugmug Photo Album
---
Tagged with:
More posts: