Posted on: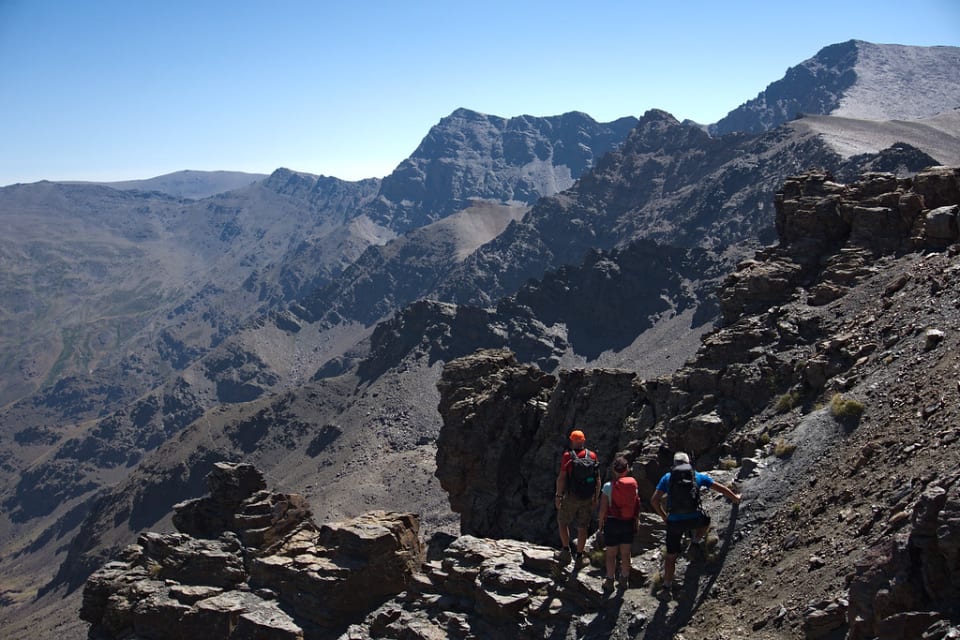 This was an interesting day. Interesting as it crossed some terrain I have never trodden before, threading the Raspones ridge.
We started at Posiciones at 3000m, using the National park bus to gain altitude. Round the old road to the Refugio Carihuela, then over the vertical Paso de los Guias to gain access to the top of the Raspones ridge.
Crossing the Paso de los Guias
We dropped down to the lake at Laguna del Riuo Seco and took a break. The ascent from the east via the Laguna del Rio Seco to the Raspones ridge was initially quite gentle, only steepening in the last 100m to the pass itself.
The approach to the ridge
This consisted of a short, steep and loose couloir. In my opinion, better in ascent (the way we did it) than descent. Unfortunately it did mean another long loose descent of the western slopes down to the Laguna del Pulpito. This would have been arduous in ascent, again I think we did it the correct way.
The top of the eastern gully
Looking down the eastern gully
Descending the western steep scree slopes
The diminutive Laguna del Pulpito is located at the base of this scree slope flanked by the Raspones ridge and the small but interesting peak of El Pulpito. We lazed awhile on the grasses around the lake shores.
The Laguna del Pulpito and the western gully
The ascent from there to the Collado de Carihuela was again arduous on faint tracks passing the Laguna de las Cabras en route. Although we got the ski lift down from 3000 to 2000 metres it was still an arduous but very enjoyable day.
Had to laugh at this photo! If there is one photo I have that describes perfectly yesterday's "walk" it's this one. Descending the steep and laborious screes of the western "canuto" from the "portillo" on the Raspones ridge.
Over 3 years since a heart attack and 6 months since a pacemaker was fitted I am feeling that I am getting my mountain fitness back. The pacemaker seems to be synchronising the ventricles, I feel better moving at 3000 metres and I feel like my performance in the mountains is improving.
This trip, as on the Cartujo a few weeks prior, were tough days and yet, apart from the tired legs (this is normal!) my heart and lungs seem to work fine. I am so thankful for this.
Smugmug Photo Album
---
Tagged with:
More posts: