Posted on: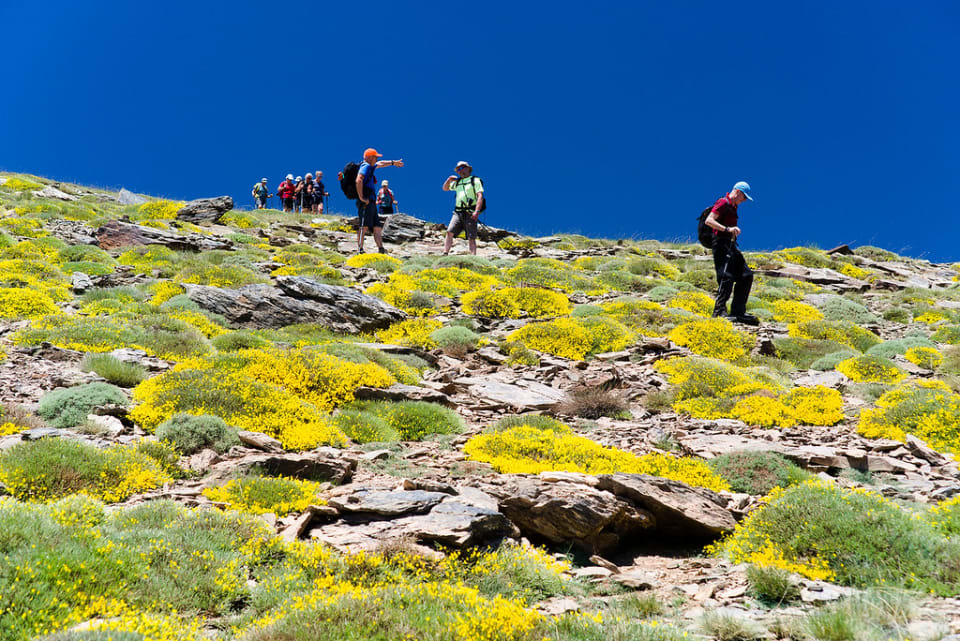 Had a trip up an old favourite with our walking group. Las Alegas may be "only" 2700m high but it's a little gem. Apart from the access road to the refuge at La Piuca, the whole route is pathless or on very faint tracks.
We ascend up a shallow valley next to an old goat farm. No track apart from a few goat tracks. When we come out of the forest we see the white villages of the Poqueira below (Capileira, Bubion and Pampaneira).
The views only really become expansive as we reach the ridge line and the view west towards the 3000m+ peaks of Cerrillo Redondo and Tajo de los Machos opens out. Below us lies the tiny Refugio Cebollar.
A quick break on the summit, with the full ridge of the Sierra Nevada to our north and it's east down steep pathless ground heading for the forest edge and entry to the faint track that leads to Refugio La Piuca. The long walk back along the forest road seems endless under the hot sun and we long for some cold beers which eventually arrive when we reach our cars and an hour later, the town of Lanjaron.
My friend, Dexter, turned up with an umbrella. I took the mickey but in actual fact it really worked at providing cool shade. Just got to figure out a way to attach to my rucksack. It was a "Silver Shadow Mini Umbrella", only 186gm by Six Moon Designs. According to Six Moon Designs ...
Walking across deserts in the blazing sun or through summer rain showers shouldn't be a misery. The Silver Shadow Series provides a large reflective surface on top to deflect sunlight and a black underside to absorb wandering rays, allowing you to walk cooler and better protected. Its coating sheds water easily, eliminating the need to wear sweaty rain gear.
Pathless, wild and saw nobody else all day. Beautiful views, enhanced by the colourful yellow broom decorating the landscape. Says Kiersten ...
Complete sensory overload (again) yesterday on our walk. It was the scent from the Broom, it was incredible. The colour of the yellow broom against the blue sky, the Saharan dust coloured mountains with bits of snow hanging on and the company
Smugmug Photo Album
---
Tagged with:
More posts: