Posted on: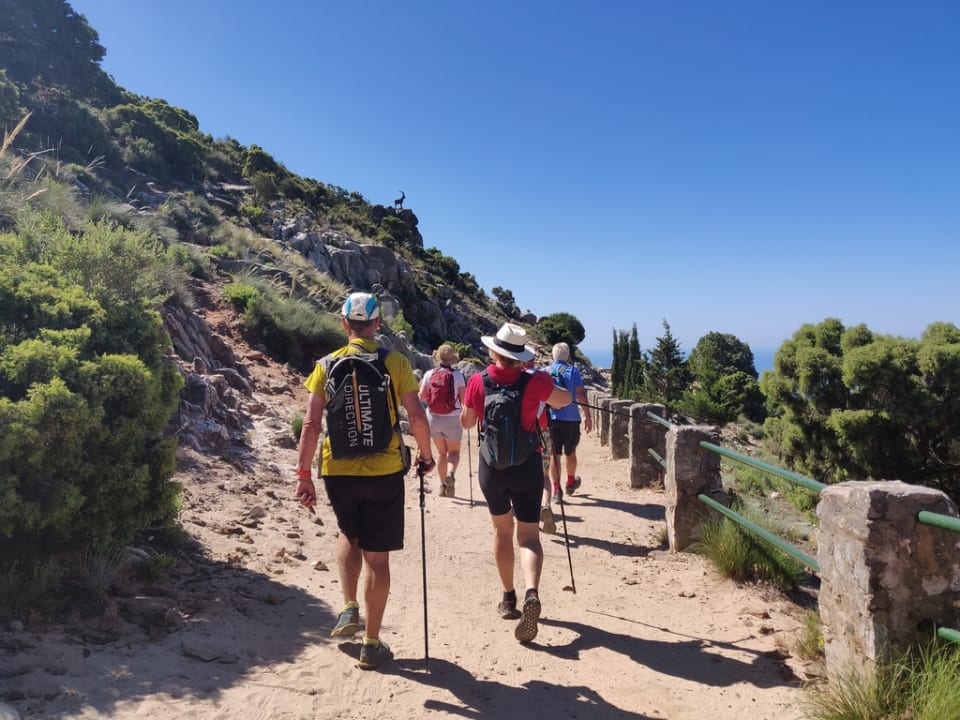 At the beginning of June, Kiersten and I had the pleasure, yet again, of guiding the Mairwyn Leigh and Bonita Wilson walking group. We were in the Sierra Blanca, inland from Marbella. We were lucky enough to stay at the Hotel Castillo de Monda. A beautiful hotel located high above the town. Here is the early morning view north out of our bedroom window.
Day one started at the Refugio Juanar and visited the "miradores" near the Cruz de Juanar. Then it was through the beautiful forests near the Olivar de Juanar and steeply up to a pass. Circumstances dictated a change of plan so we descended the long valley towards Istán where we caught taxis back to the start point.
An enjoyable and taxing day in the afternoon heat. The descent of the gorge to Istán was interesting to say the least with a few easy scrambling sections adding to the entertainment.
It was a long hot afternoon descending from the Sierra Blanca (Ojen) before we arrived at the beautiful village of Istán. We quickly located one of the few open bars and proceeded to quench our parched throats. Reminded me a bit of the classic movie "Ice Cold In Alex"!
The following day we visited the lovely town of Tolox at the edge of the Sierra de las Nieves. From here a number of river and waterfall walks spread out. We chose a riverside walk from the town to the spectacular waterfall at Charco de la Virgen. After the efforts of the previous day we chose an easier one, a 6km walk with 200m ascent.
The path crossed the river many times as it wound it's way up the valley eventually arriving at the spectacular waterfall of Charco de la Virgen, where some of the group took a refreshing dip.
A good walk for the hot summer months as there was quite a lot of shade provided by the forests and woods en route.
Smugmug Photo Album
---
Tagged with:
More posts: