Posted on: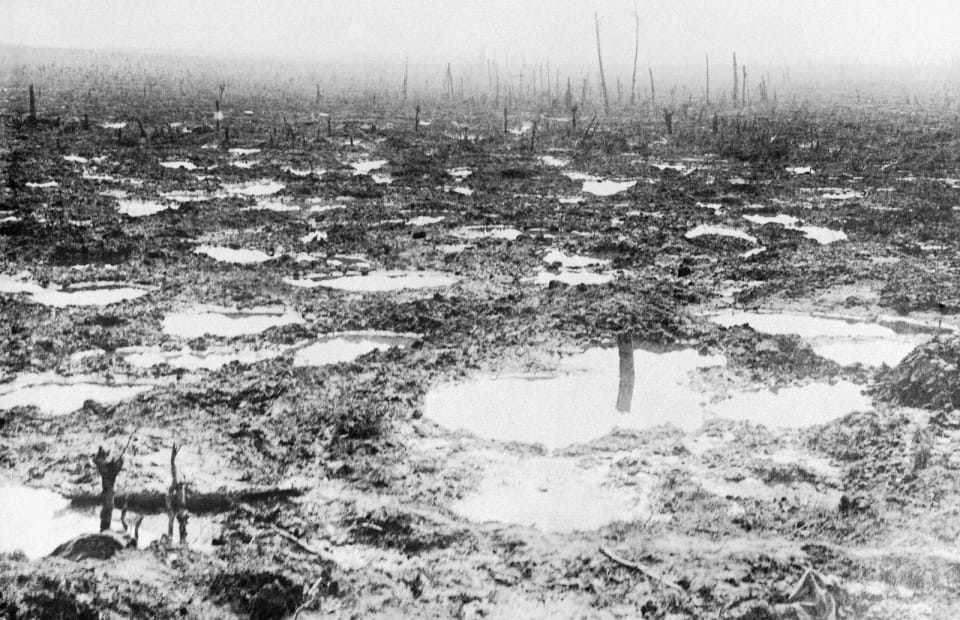 I have kept sane during the enforced Covid19 lock down by getting involved in projects that normally I wouldn't have time to complete. One such project is researching my grandfathers role in World War One. Below is a summary of my research including battle maps
Horace (Harry) Leak was our grandfather. During his life he didn't talk much about his experiences during World War One. Old soldiers seem reluctant to do so. I guess the horrors of those times tend to be bottled up within. During his latter years, maybe thinking unconsciously about the need to pass on his stories, he did open up a bit to my two brothers and I. He also left us with a mass of written notes about his war time years, which make for fascinating reading.
We have analysed these notes as best we can and tried to date and validate them. To assist us we have read published books about his units, firstly the 1st 7th Battalion (1917) and secondly the 1st 5th Battalion (1918) of the 49th West Yorkshire Regiment. In addition we have the advances of the internet to thank, for example, detailed trench maps and the Battalion War Diaries. These provide an invaluable resource and have helped pull together his notes.
There is a certain consistency with all of Harry's 200+ pages of war memories. Yes, there are many repetitions, but plenty of consistencies too about those events. That very consistency gives a certain authenticity to his story. Certain of his recollections have been found to be incorrectly dated, I guess an 80+ year war veteran can be forgiven for getting some of these wrong. The Battalion War Diaries at least give us chance to verify all his dates.
I have not tried to re-write Harry's notes within this story, neither correct nor put into "better English", apart from the odd spelling change or to apply better punctuation. The quotes I have used have been replicated here in his own inimitable style. For those fortunate enough to have known him, they will instantly recognise his words. He was just an ordinary guy. No swashbuckling hero, no testosterone filled muscleman, just an ordinary "Tommy" doing his bit for his country. He was a larger than life character though, always smiling, singing and laughing, a gentle soul as these war notes reveal. During the war years it seems he never lost his humour, empathy nor humanity. And ... that is some feat.
Timeline
November 1915 - Enlistment
May 1916-January 1917 - Malta
January 1917 - Off to the Western Front
April-July 1917 - Fauquissart Front
July 1917 - St Georges Sector, Nieuport
1-8 October 1917 - Approach to Ypres
October 1917 - Poelcappelle - 3rd Battle of Ypres (see map below)
November 1917-April 1918 - Hospitalisation and Recuperation
April 1918 - Back to France
May 1918 - Front Line, Kemmel Hill (see map below)
May-August 1918 Ypres Summer Reinforcement
September 1918 - Arras Front
11-12 October 1918 - The Pursuit to the Selle (see map below)
15-16 October 1918 - Battle of the Selle (see map below)
1 Novermber 1918 - Battle of Valenciennes (see map below)
11 November 1918 - Ceasefire
November 1917-October 1919 - Army of Occupation
Harry's thoughts on the war up to enlistment in late 1915
"Now when war was declared on 4th August 1914 I must admit that England had the most powerful navy in the world, but our army were stretched all over the world, wherever there was British interests."
"We had reserves in both navy and army and they all soon answered the call and so did all the colonies, Anzacs, Aussies and Canucks. Just to be sacrificed as right up to the end of 1917 our Chiefs of Staff thought the war could be won with the bayonet."
"Great Britain got caught with their pants down to put it bluntly. Take Gallipoli, the Somme, Ypres. No wonder Flanders was to stem the tide of the German advance."
"I guess also in the first year our artillery was not getting enough shells for the guns. So they were limited to use them only when really necessary. So this is one thing, if we had had lots of machine guns or Lewis guns the average Tommy would have been a lot happier."
Enlistment
Harry and some of his pals had tried to sign up to fight for king and country earlier, but it wasn't until late 1915 that he was called up. He was just 20 years of age. He enlisted on 20thNovember 1915 and that enlistment was approved on 21stJanuary 1916, so he joined the 1st 5thBattalion of the West Yorkshire Regiment 49th Division.
"In 1914 and 1915 you had to be fit and in perfect health to join the army. In 1914 my two pals and I tried numerous times to get in the army. One recruiting officer made the remark, we sure would be useful if only as pull-throughs'. We were skinny runts you see. We tried various places and the usual skits were thrown at us, like 'Go Home and Eat a Cow between two slices of bread!'. It was only late in 1915 that we got the 'Kings Shilling' to be called up at 24 hours notice."
"We were sent to Redcar where we were inoculated in one arm and vaccinated in the other. I think he must have been a veterinary doctor because the very next day he came and wanted to look at out feet. He told me my feet were perfect, I had a high instep. It was all Dutch to me."
"In Newcastle we were billeted in a roller skating rink in St Mary's Place off Northumberland Road. For the next three months we had hard training all day long on the town moors. It was very cold and we sure enjoyed the hot meals waiting for us afterwards."
Mediterranean Bound
After the initial training in the North-East, rather surprisingly,he was issued with tropical gear and put on a train heading south. On6thMay 1916 his battalion boarded the ship Ivernia out of Devonport.
2000 raw recruits were packed into the holds of the ship which had a stormy passage through the Bay of Biscay before arriving in Gibraltar for a brief stop over to take on provisions.
"We had a rough passage in the Bay of Biscay and I did not eat anything as I had the misfortune to only have 1 penny in my pocket. Not enough to buy an apple. I wished I was back in the brickyard earning a decent wage."
At this point they were still unaware of their final destination. They had feared they were bound for Gallipoli and the Dardenelles, so were quite happy when they pulled into Valletta, Malta.
"After leaving Gibraltar we went up the Mediterranean. We began to feel a little anxious as rumours we going around we were going to the Dardenelles. Anyway they were all wrong, a few days later we dropped anchor in the Grand Harbour in Malta."
Fortunately for Harry he was one of the sixtyor so that were picked out to stay in Malta and unload hospital ships, helpingthe existing half a battalion of old Boer War veterans with this important work. Lots of sick and wounded came in there from Gallipoli and Salonika.
"Well we were very fortunate to be there and we're kept very busy, but in a way we were very glad to as we were not at Gallipoli."
The first month was spent in Floriana Barracks until the necessity for beds for the sick and wounded meant they were moved into tented accommodation. This site was on an old burial ground that sloped down to the harbour which was very convenient for "out of work" bathing time in the hot weather.
"One day my mate and I went down to the harbour and spent the day swimming down there. This wasn't allowed unfortunately. We got back at 6pm. During the night we both had to be taken to the hospital as we were delirious. The doctor said we had "Sand Fly" fever. We were in the hospital for about three weeks. For the next two weeks we had no solid food, just slop. And, that is why I don't like milk puddings, even as of today. We were glad to get back to the barracks, until the CO put us on a charge and then gave us three weeks confined to barracks with no pay! "
"There is one thing we get very good meals and we sure enjoyed them as we were on a shilling a day payment and I had made an allowance to Mum of 3/6 a week. I think they made it up to 5 shilling a week for mother."
His building skills were put to good use, even in those days.
"One day they held a competition for the tidiest marquee. Me and my mate Jimmy Grass went for it. We collected all the large rocks from the hillside around and made surrounding walls, that kept the goats out. Then we levelled off the floor using soil from the cemetery and mixed it with water. In the high temperatures it set as hard as concrete. We shared the money around the marquee.
Harry seems to have been a "bit of a lad"!
"I was on guard duty at the Main Guard room in Floriana Square opposite the Governors Palace and there was a band playing every afternoon. Well the rule was you were allowed to stand at ease and when I stood like that one time I was kind of doing a tap dance with one foot. Little did I know I was spotted by someone in the Palace. I think it was the Governors son. That resulted in four days confined to barracks."
He suggests that he had a girlfriend back in England.
"In July I had a letter from the mother of the girl I was courting to say she was 'walking out' with the Foreman where she worked at the Paper Mill. In fact I knew him, he went to the same school as I did. So in a way I did not bear anyone a grudge as it was well known that I never intended getting married whilst the war was on. It left me rather relieved."
There were interesting other duties Harry had to perform.
"In November six of us were on duty at the cold meat store and it rained continuously for twelve hours. The wind was terrific. When we got back to camp next morning nearly every marquee was flat on the ground. Gee whizz, everyone was busy sorting out belongings and our mates said we was darned lucky to to on guard duty during the storm."
"For the next two months two of us was out every other night with a signaller on observation duty on the sea front. If there was a light shining out in the Mediterranean he would fix a telescope and then draw a sketch of it."
All good things come to an end though, especially during wartime. Harry had really enjoyed his time in Malta butinlate December they received noticethat they would be shortly heading for the continent.
"There was a daily paper printed in Malta and it was very gloomy about the future, both in the east and the western front. It didn't alter the fact that there were still terrific casualties always arriving. In February we were refitted and were guessing where we would be bound for. We was soon to know, it was for France and Belgium."
Off to War
In January 1917 they boarded a ship in Valletta harbour bound for Marseilles in France. There they were put into box cars on a freight train which headed north. Harry complained about the meals!
"I remember we were all quite excited when the Sergeant told us we were going to have Pork and Beans. What a surprise, a piece of greasy pork on top of a tin of beans. One look at that was enough. It was terrible, felt like we was going from the sublime to the ridiculous. As far as that and porridge was concerned, I would never sample again."
It must have been four difficult days before they arrived at their destination, Étaples, south of Boulogne on the northern coast. This was the principal depot and transit camp for the British Expeditionary Force in France.
"On arrival we were all examined by the doctors and declared fit. In a lecture we were told that we would start extensive training."
"They put you through the mill alright, galloping around in the soft sand from one trainer to another in heavy soled boots. We were glad to get back to camp at the end of the day."
"The camp we were at was as strict as any prison. The Red Caps caused a lot of trouble. There were four sergeant instructors there that took charge of us and they certainly put us through the mill, as the saying goes."
"An instructor took a violent dislike to me. I said that the bayonet was no good against the machine gun and during the subsequent bayonet training he gave me a heck of a wallop over the knuckles of my right hand. Right away I swung the butt of my rifle at his chin but sorry to say, I missed. Anyhow I was arrested and put under guard at the camp for Attacking a Warrant Officer."
"Next morning the camp commandant told me that it was a serious charge. The instructor said he just gave me a slight tap on the knuckles. I showed the commandant my hand and he blew his top at the instructor. I was let off with a caution, he tore the charge sheet up, excused me of all duties and told me to get my hand seen to at the ambulance tent."
"We were very glad to leave Etaples."
"A few days later in St Omer I was also picked on by a Sergeant and got four days confined to camp. Just about that time they issued us a green envelope. This would be used for family communications only and not be read by the Censor Officer. I wrote to by brother, Harold, who was also serving in a Territorial Regiment. Unfortunately, the Censor Officer saw a green envelope addressed to a H.Leak, written by a H.Leak and became suspicious. He opened it and read the contents which I can assure you were not very complimentary. He told me I could be shot for what I had written. I apologised and said I was sorry. He gave me the letter which I tore up in front of him. You see, the officers that rose from the ranks knew all the tricks of the trade and it was no use trying to pull the wool over their eyes."
They also spent some time in the Dunkirk area to do intensive training in the sand dunes.
On training:
"Well most of the time on the sands near Dunkirk was bayonet fighting and I thoroughly detested it. Of course the Sergeant Instructor knew that, so he quite naturally picked up on me. He said "Why don't you curse and swear?" Well you see, I had an awful experience with a most vicious Sergeant Instructor at Etaples after arriving from Malta, so I made sure it was not going to happen again. I put up with it."
Harry found the training tough and they were really put through the mill for the next few weeks. One day they were transported to St Omer for an inspection parade. Here they were told that they were joining the 1st7thWest Yorkshire Regiment.
"It sure made me a lot happier as that regiment was the Territorials together with the 1st8th Battalion of the 49th Division. There were quite a lot of chaps from Leeds and district there."
A day later they headed for the front line at Fauquissart.
Poelcappelle - 3rd Battle of Ypres (October1917)
During September the 1/7th continued training in the Dunkirk coastal areas, readying themselves for the start of a major offensive soon to start in the Ypres area. During first week of October they moved into assembly positions west of Ypres. The Division had been ordered to take part in the offensive operations planned for 9thOctober 1917. On the 7thof the month the Battalion was in Vlamertinge Camp.
"It bothered us that we knew we were to be in that mass attack and didn't know any more than the Germans. We realised it would be a very tough job so all we had was to live in hope even if we die as the Jerries had too many machine guns for our liking."
"In the Ypres Salient it was the custom when in the front line or support to 'stand to'. That meant the everyone had to be ready in case of attack by the enemy. After a couple of hours we used to take turns to go into the dugout. Well, I stayed on watch until well into the afternoon."
"I was amazed looking over the bulge of the Salient. It was just like one giant horseshoe and the destruction, well it was bad. In daylight the troops must have gone through hell in 1915 and 1916 defending Ypres. There was nothing standing, only stumps of trees. Looking back over the lake, I thought that anybody who gets out of this was will be very lucky."
"A few nights later we were in semi darkness over very slippery, very muddy ground for such a long time. It was a case of 6 paces between each man. It was very difficult to walk between shell holes."
"By what we could see in the darkness it was most horrible and we got to a duckboard track about a yard wide, but had to keep getting off due to shell fire. The track went in between two camouflaged field guns. Our guide had never told us about these. Both guns blasted off with a blinding flash and my foot went don on a broken piece of duckboard. I fell over into a hole well above the shins and slowly sank deeper."
"I was very lucky to go in feet first and also lucky that it happened by the edge. My pals were close by and one chap grabbed hold of the muzzle of my rifle and I hung onto the butt. I got out."
"Some time later we reached a dugout. They had my puttees off in no time and then boots and stockings. I said there was a towel in my haversack. Gee I sure rubbed my feet and legs. Fortunately it was a warm wind. One of the chaps took my stockings out to dry. I put one foot in my cap comforter. He said "What are you going to do with the other foot?". Anyhow he lent me his."
"Now when in the front line or support it was the custom to be all ready for action before daylight so I put my bare feet in my boots and was in the trench for hours until about one o'clock keeping a good lookout."
"There were about 50 of us and only room for a few. An officer yelled "Spread out and get in shell holes". They were all nearly full of water. Three of us were the very last to get in a shell hole and we must have been 80 yards from our nearest comrades."
"Not only that we sure was pinned down by gunfire. Even through the night and all next day they kept spraying bullets just above our heads."
"You see, we did not know until the third day our division had been relieved and the third day I said to my two pals that I hadn't heard any bullets. They agreed with me and the explosions did seem to be a long way off."
"By that time not only were we exhausted but we found we could not stand. Anyhow we finally managed to get out. It sure was a struggle as our feet and legs were quite numb. We sure was miserable, wet and hungry and we got to the German Pill Box. Our legs and feet were dead. No wonder, as they had been in water most of the time we were laid in the mud."
"One of them spotted a pill box about 50 yards away to our left. Then he saw some figures moving towards it. We shouted as loud as we could, one chap waved his hand. He came over and asked us what division we belonged to. We told him the 49th. He said it had been relieved over 24 hours ago. He was one of the New Zealanders from the Anzac Division and was taking four wounded and one blinded down to the nearest field hospital."
"The Anzacs helped slide us through the mud and got us to the pill box. There was a pile of sandbags so we took off boots and puttees and put sandbags on each foot and two on each knee. We knew we would have a lot of crawling to do. The ambulance man of the Anzacs was marvellous. He said he would report our need of urgent help to an aid station."
"Half an hour later we decided to try an extract ourselves. So off we went crawling. I could not keep up with my mates, they were stronger. They waited for me once but I told them to go on. I fell fast asleep. Setting off again I came to a spot I thought I recognised. In the distance I saw I was nearing a good solid road. Once on the road I stopped crawling and started rolling down the width of the road. It was far easier that way and I seemed to travel faster. After I had rolled onto my back about 50 times I sat up in the road and in the distance I could see Ypres. I hoped I could get to the trenches at the edge of Zillebeke Lake before it gets dark.  I had my doubt about the road I was on. I thought it was the Warrington Road and on it previously was a pile of dead mules and horses. Fortunately they had been pushed to the side of the road. I did not waste any time there for obvious reasons."
"The last two hours I was alone and scared to death as the big black 'Heavies' were busting  in the sky. I was not very far at the side of one of the roads. That was like being under fire. The road had a sign on I remember quite clearly. Warrington Road."
"I saw some men walking towards the road so I sat up and shouted. They came over to me. They were two officers and a padre. They asked me how I had got into that state. Then they found two men with a stretcher and they carried me to an aid station. I thanked them for their help and they hoped I would get to England."
Hospitalisation and Recuperation (November 1917-April 1918)
"After I reached the aid station they transported me to a field ambulance and then into a large marquee and there I found my two shell hole mates. We were in that marquee four days awaiting transport to take us well to the rear. I told a doctor what regiment I was with. He said "Do you live in Leeds?" He then asked me if I knew a Doctor Fergus. I said "Yes, he's our family doctor!"
"Finally we got to a large hospital in Wimereux near Boulogne. I was well attended to by the doctors. What puzzled me was why my two mates were not in the same ward. Next morning I asked the sister. She told me that I was in a worse condition than them."
"Two days later one of the nurses said to me "I guess you will be in England for Christmas, your knees to you thighs are terribly swollen and you are like a skeleton". The Doctor asked if I would like to go to England as a sitting case as I would be no use to the army for the next three months. I thanked him. After another 5 days, around the 156th or 16th December I boarded the hospital ship, St Patrick and arrived at Dover. "
"As I settled down on the train heading north I closed my eyes and prayed and hoped that never again would I be in the Ypres Salient. Having said that, I was really lucky as there were many thousands less fortunate."
"We eventually got to a large hospital in Whalley, Lancashire. It was just 1 week before Christmas. I was asked if I would like to go to a convalescent home. I said yes."
"Along with 19 others, mainly cockneys, we went to three houses in Colne, just outside Burnley. By gosh, it was really wonderful. Good food and attention, thanks to the cook and six nurses. I was the only Yorkshire chap. What a marvellous Christmas and New year we had."
"At a pantomime one day a box of sweets was passed around from the back to the front. I turned around to thank them and sat directly behind me was Belle."
Note: Belle eventually became Harry's wife and our Grandmother. In 1980 Harry wrote ...
"Well on 15th March my dear wife passed away in Leeds Infirmary and I sure was broken hearted. I was like a pilot without a plane. We sure had a happy 56 years of happy married life, although it was very hard to make ends meet. But Belle never lost heart."
"Funny thing is, if I would not have  met her if I had not been in the Passchendaele area. I wouldn't have had 56 years of happily married life with Belle."
"I sure am very grateful that from something very bad something marvellous came to me and my family."
"By the end of March 1918 I was marked fit and well and I must admit I was 100 per cent better than I ever was. Two days later I had notification to report to Earsden (Alnwick) a few miles from Newcastle."
"Just before I left Colne I met Belle outside the gate. I said to her, apart from sending a letter to my parents I do not write to anyone but if you give me your address I will send a letter to you."
Back to France (April 1918)
On 20thApril 1918  Harry was back in France at St Martins Camp not far from Boulogne. This time he was posted to the 1st5thof the 49thBrigade. Fortunately he arrived too late to be involved in the Battle of the Lys (Fourth Battle of Ypres) which was going on throughout that month, a major German offensive to cut off the Ypres Salient.
"I arrived back in France 20th April 1918. After spending the night in St Martins Camp a party of 100 of us arrived at a place named Obele. There were at least 100 of us and not a recruit amongst us. We had all been in the line before."
[Note: I believe this place to be Abeele, SW of Poperinghe]
"An Officer asked me if I would like to be No1 Lewis Gunner. I said yes and for 10 days I was on a course. What's more, I passed alright and my pay was 6d a day more. Out of the four gun teams I was the only one that hit the target, I suppose more by luck than judgement. We drove the instructors mad as we were only supposed to fire short bursts."
"The next two weeks were pretty hectic. After 10 days I had passed all the tests. Next day he handed me a Webley revolver and two days later we were in support on the front line."
"In 1917 and many times during 1918 I was asked if I wanted a stripe. I always said no, thank you. My excuse for that was that when you had authority to tell anyone to do something in the line, and they catch for it, you are responsible for their death. That's why I finished a full blown private, like I started."
Throughout May 1918, the flood of 'new blood' promised by General Cameron poured into the 1/5th battalion, with 17 officers and 592 other ranks joining. In June, July and August a further 9 officers and 326 Other Ranks arrived.
"They had had more casualties in the last action. They sure had a lot of young chaps, quite a few from the south and quite a few from Manchester. Once more it was hard training."
Kemmel Hill - Harry's Story
"We had to parade in battle order and we thought we were off for another four days in the line. We set off around 7pm walking and it was quite dark. What's more we couldn't see anything. I sure got a surprise when the officer took our platoon and gun teams into a field and told us to spread out and face the way he was. He said, Gunner Leak, take your team right to the end and we will see you in the morning. Get your oil sheets on the ground and rest."
"What puzzled us was that there was not even a lance corporal with us. If only the Germans had known that we should have been taken prisoner quite easily without firing a shot. All of us were awake before it got light."
"I expected them at 5am and they had not arrived at 7am. 15 minutes later 4 shells exploded 40 yards behind us. A short while aftera load of Germans came out of a wood 400 yards away. There must have been 200 of them. If we had spent the night digging holes to fire from we would have stood a better chance. Thank goodness everyone in the platoon had seen service before in the front line. They knew to hold their fire until the Germanswere much closer. Wasn't long before we knew the situation was hopeless. Our chaps had done well, but they were  outnumbered by about10to 1. First burst of fire from us and the Germans lost a number of men. We did not get off scot free as three of my team were killed, another badly wounded. My No2 said it looks like we arebeing prisoners."
"We both scampered up the slope about 150 yards, dug a quick funk hole and set the Lewis Gun up. I have often thought that was the daftest thing I ever did as we only had 2 panniers of ammunition left (47 rounds)."
"It was a hopeless situation and I was watching the Germans put the wounded on stretchers. They certainly were busy, they also had casualties. Five of our chaps had their hands on their heads."
"My No2 said there was someone creeping up on us through the grass. I said keep your eye on him. I was more concerned with the Germans at the foot of the slope. If they come up here I'll take the cocking handle of the gun with me, but leave the gun so I could run faster."
"The person crawling to us through the grass was a British officer. He said those are Germans down there. I told him I was well aware of that. He replied, well fire. I said they are picking up the wounded. He replied, fire anyway. I was very abrupt, I said I will not, there was 30 of us down there and now there are only the two of us left. My No2 said fire a little burst to pacify him. I let a few rounds go towards the man in the moon, way above their heads."
"Little did I know but by firing off that burst it nearly cost us our lives. We got back in the funk hole and were kneeling facing each other. A bullet from a sniper just whizzed past my right ear and if my mate had not had his gas mask on his chest he would have been a dead duck. He had his hands in front of his gas mask and it was really incredible. The bullet went between two of his fingers of his left hand and it just skinned the skin off. Did not smash a bone. He lost quite a lot of blood though. And that is God's truth."
"Right away we were off running to where that Officer had disappeared. About 50 yards away we met six or seven soldiers amongst the trees. I asked if they were 49th Division, they said no they were the 4thDivision. They told us the 49thwere over there about as mile to our right. In the darkness of the previous night we had been dumped in the wrong field. We sure was boiling mad that we had been left in that situation."
"We crossed three roads before we got to see any of our lot, must have walked a mile and a half. The Sergeant said they had been looking for us all over. He asked me where have we been? I blew my top, told him he was full of tripe and almost got on a charge. I asked an officer why had no one come for us. Did they not hear any shell fire nor noise of any sort? We were dumped in that field and only two of us got out. Six or seven were taken prisoner and and at least going on for 30 casualties. Some had paid the supreme sacrifice."
"Seems we were put into the wrong field as we found out that we were in front of another Division on the blinking left."
"I called them twerps! The Sergeant said he would have me up before the CO. I replied, I wish you would. He was from B Company and we was in A Company. Well, it was all hushed up. Next day we went back, I think it was, to Obeeleto get reinforced.  That is where we got about 50 recruits, all young lads. Quite a few were from Kent and the London District. I got three in my gun team."

"We left that spot and did not have any further contact with the Germans for quite a while. Soon after that we were back in the Ypres Salient up either side of the Menin Road, in trenches or down the other at the edge of Zillebeke Lake."
Ypres Summer Reinforcement (May-August 1918)
"During the next two weeks it was always the same routine. Then we moved to the Pop front to hold the line. We would spend time in the line and then time in support."
["Pop" was the soldiers slang for the town Poperinghe, west of Ypres]
"A few days later we were back in the Salient up towards Zonnebeke, Kemmel, Dickebusch on one side of the Menin Road or up towards Langemark on the other. Most of the time we were in the Zillebeke trenches and we sure got used to that area. I saw that track many times in the next couple of months without further trouble."
"I was sure surprised looking in the direction of Zonnebeke. The bulge was so small compared to what it had been in 1917. There must have been some bitter fighting and the German attack certainly got close to Ypres."
"An Officer asked me if we had any complaints. I said would it be possible to have a steam bath as not only are we terribly filthy, but lousy too? He noted my complaint. Two days later 200 of us had a five mile/two hour walk to where we stripped off for thirty minutes hot steam bath. We had to undress in a field and take a towel with us. The sergeant asked me if I had enjoyed it. I told him I would have enjoyed it more if our clothes had been fumigated. "I invited the Sergeant to come into our huts and watch the lads running lighted candles up the inside seams of their trousers burning out the 'chats'. As we were marched off the Officer asked us how we enjoyed it. We surely did so we all started singing 'For he's a jolly good fellow'. All the way back we were singling Tipperary and all the old war songs. I can honestly say I enjoyed every minute of that day."
[N.B 'chats' was the word they used for lice]
Further fighting patrols were pushed out on subsequent nights in June 1918, sometimes with artillery support, to deal with enemy strong points, including that to the north-east of Dilly Farm. These patrols were not successful in engaging the elusive enemy, but at least casualties were limited to wounds.
"Two staff officers paid us a visit. Doesn't make them any wiser! As they sauntered along the trench one asked me if I was sure the Lewis Gun would fire. I said, yes. He wanted me to prove it. I stood up, took the gun off the top of the trench and walked two bays further over. Then I fired off a burst. The Officer said, why did you take the gun over there? I said, so we wouldn't give our position away. A few minutes later shells burst just in front of the position I had been firing from."
Having spent June in the line north of the Menin Road, in July the 1/5th moved south, to the area between Hellfire Corner and Zillebeke Lake. Here, it was even quieter with occasional shelling and patrols only occasionally challenged by distant machine gun fire.
"We were mostly in the line trenches in front of Zillebeke Lake but one time, in reserve, we went into the Ramparts of Ypres. This pleased me as I had never been there. It was the end of July and the canal had a dead end to it. Gee, the weather was very warm and tempting. A lad and I and went for a swim under the overhanging bushes of the canal. We were just thinking of getting out when we heard the melodious voice of our Sergeant was shouting for us. So we hid in the bushes laughing like blazes."
On 30 July Major General Cameron presented medal ribbons for gallantry at Wytschaete and the battalion marched past, before spending a week in reserve. On 8 August they returned to positions east of Ypres, north of the Ypres-Roulers railway. This part of the line was exceptionally quiet.
"It was difficult setting up a Lewis Gun Post in shell holes as one had to get used to having ones feet in water from dawn to dusk. At night we used to get out exercising our feet but one had to stand perfectly still if the Germans fired very lights up. At about that time the Germans was about 400 yards from us, but they had pill boxes to get into during the day."
However, night patrols were still dangerous and on 11 August Second Lieutenant Lewis Mitchell was killed by a sniper's bullet in the head, as he skirted the enemy wire. His body was recovered the following night by special patrol.
"With Whizbangs you first heard a metallic click and in seconds a terrific explosion. They didn't make a large hole in the ground but made a heck of a bang. I told the lads of our platoon to keep well down in the trench if they hear the click as these shells threw lots of shrapnel around."
"During that spell at Ypres I am pleased to say that we didn't have one casualty."
In mid-August the 49th Division left the Salient for good; 146 Brigade headed for the coast near Calais for a fortnight's further training and practice attacks in the dunes. Meanwhile, the Allied forces attacked the exhausted German Army, whose Lys Offensive had run into the sand at the end of April 1918. The static trenches were now a distant memory as the war became one of movement, with infantry sometimes shielded by advancing tanks. By the end of August, the enemy had been pushed back to the Hindenburg Line, which utilised the Canal Du Nord as a natural barrier. A salient was held for a few weeks around Arras, but this was driven in by the Canadians on 28 August, as the Allied armies advanced eastward.
"The very next day we left the Ramparts of Ypres. We later heard that the yanks had taken over and the Germans had thrown everything but the kitchen sink at them. Well on the move again and our destination was Cambrai."
Arras Front (September 1918)
The same day, the 1/5th Battalion left the coast for Arras, arriving at Foufflin Ricametz, 10 miles west of Arras, at 5.20am the next morning. On 2 September they enbussed for Lancaster Camp, three miles north-west of Arras, where the battalion trained and laboured in reserve for the best part of three weeks. On 20 September,they moved forward again to relieve the 1/6th between Roeux and Plouvain, occupying the new front line seized by the 51st Division on 28 August. They were shelled in earnest by the desperate enemy, with five men killed and two wounded on 23 September.
"We entered the outskirts of town and were told that the Germans were at the other side of town. We had a position on some steps that led down to a Château. We went down into the cellar and smelt something cooking. Someone had killed some rabbits. Anyhow, the taste was good."
"We had only been in the cellar of the château an hour when a large shell exploded about 60 yards away from where we were. There were 12 casualties, most of them were dead. One of them was Stan Brogden, son of a friend of my family. We used to work in the brickyard together. The blast blew both his legs off. I wrote home and told my parents and my Dad told the family. They had had a letter saying he was missing."
"The Officer said I am sorry your friend "caught it". I said, well that's what war is all about. It is either kill or be killed."
"We came out to the Arras Front and was sleeping in holes we had dug in the railway embankment. In front of us were three observation balloons. Well, a German air plane swooped down and I fired a full magazine of bullets but didn't hit his plane. In less than three minutes the occupiers of each balloon jumped out before being hit themselves."
The Pursuit to the Selle
"The guns opened up with a terrific barrage and we had to not get too close to the barrage or we would get a "basin full" as the old saying goes!"
"We came to an aid station We were going down some steps when a German fired a revolver at us. I think the Officer was slightly wounded in the ear. We sure did a quick about turn. My mate and I lobbed a couple of Mills Bombs. They finally came out and they were a tattered bunch of scarecrows. Nearly every one was bleeding. This was about 9:30 in the morning."
"There is one thing I did not like that happened. A soldier asked what time it was. A young German prisoner pulled out a watch. One of my team grabbed it off him. The young German could understand English but couldn't talk it. He made out his fiance gave it to him and tears were running down his cheeks. I played heck with my team mate but he wouldn't give it up."
"We were held up by 2 German tanks and we got in a sunken railway embankment for the night . We were in a hole that Jerry had used as a post for their machine gun nests. I was a little apprehensive as I personally had a few souvenirs, 2 revolvers and a pair of binoculars. I slung them in a cap comforter about 20 yards away from us as the tanks were only about 200 yards away. It was quite a while until our artillery got their range and we sure did breathe a little easier, so I got my junk back."
"Would you believe it? The Colonel came and visited us, asked us how we was. I replied that we were very cold as there was just our gun team in that part of the road. Gee, we were sure surprised when he gave us his bottle of rum! It warmed us up. I think his name was Colonel Oddie. Some said he was a lawyer from Bradford."
"The Germans had retreated in the night.. From then on it was open, flat country so we had to contend with machine gun fire and shell fire from tanks. Unfortunately our second Lewis Gun team 200 yards on my right were all killed by a shell from a tank."
"It seemed as if jerry was on the run alright. I must confess we were all very tired. The next day we were on the way out and were relieved. Here is the funny part. I looked like a junk man with two revolvers slung around my neck along with binoculars. In fact I sold them to the Colonel. To cap it all my braces were tied around my middle and I had not many buttons on my trousers."
"Even at that time the average Tommy did not think he was nearing the end. So off we went back for a rest and I suppose more training for open warfare."
"It seems the 49thDivision and Artillery had really opened up the way to Valenciennes."
"On we went for the next few days keeping the Germans on the run and I know it sounds daft but I was rather enjoying it."
"We knew something was going to happen as I had to establish my Lewis Gun Post about 200 yards ahead and left of the other Battalions. My team and I was ready on the left of our Battalion. We were told the artillery was going to open up at 5:15am and every three minutes we had to advance 100 yards. Then the creeping barrage would continue on another 100 yards. Joke of it was, not one of us had a watch!"
"I really do think what a marvellous job the Artillery did. They were perfect. They lifted about four times and we eventually reached a river. No one had told us there was a river to cross. I was flabbergasted as with the exception of my No2 Gunner, the rest were all rookies. Well we finally get to a river which we did not know anything about and I had had enough soakings in the slime, mud and waterof Ypres. I certainly was not swimming to the other side!"
"Even though we were at the edge of the river I said we will drift to the left. The shells were going over our heads and into the small town. We had been walking about five minutes when we could see a bridge in the distance."
"I said once we get on that bridge which was only wide enough for a horse and cart it would be to our advantage. What surprised me though was that not a single bullet had been fired at us. I told my team to get tothe bridge by crawling through the grass and then to run like the devil across the bridge into that red-tile roofed barn on the other side. The barn had no door. We ran fast and as soon as we got off the bridge bullets started going over us. We all reached the barn safelyalthough bullets kept coming through the open doorway and hitting the back wall."
"We had only been there five minutes when a shell hit the roof which fell on top of us. Well we escaped serious injury, a few knocks. Through a hole in the wall we could see farm buildings to the right about 50 yards up the road. As they had already been shelled we decided to move there."
"The shell was probably from our artillery which were going over our heads towards their machine gunners. My No2 said we had better move. I said it is the tail end of the barrage that was exploding 60 yards in front of us."
"An old woman came out of a shattered building and told us in broken English there was a German officer in one of the huts. I kicked the door open but he was dead. He had shot himself. I took his revolver as it was in his hand."
"We had a good rest there. Lot of credit to my team as that was the very first time they had been under fire. We had been there about half an hour when I heard English voices. Around the corner of the building came an English Lieutenant and about 10 of his men."
"He said how long have you been here? We told him the story. He said why did you not cross on the pontoon bridges? I said because we didn't know about them. We were told to advance 100 yards every 5 minutes. He said of all the lucky fools, you could have been blown up. The roof was blown by our own artillery. If I get out of this I will have somebody's guts for garters. You are a lot of silly dammed fools! Did you not think that that bridge could have been mined?"
"We stayed with them as they mopped up in the town. We went into the square and the Germans offered no resistance. Inside half an hour we had about 20 prisoners, they all looked about 16 years of age. They were in nice clean uniforms. I have often wondered what they thought of us as we looked like a lot of scruffy tramps to them. We handed them over to the 1/6th who were in support."
"The Officer told me the main place we had to capture was Aulnoye. I and my team got in a sunken road right in sight of Aulnoye but part of our Division was held up at the railway crossing so there was a gap between Companies. Just as it was getting dusk our Battalion finally reached their first objective but the 1/6th (on our right) was having strong opposition and they had to call on the 1/7th for help. After a while they reached their objective and got the railway crossing and the village of Aulnoye."
"Then it was on to the second objective. We had gone through a very large field and had no contact with the Germans. We knew it would not be long. Our Battalion was to our right a good 60 yards behind. Suddenly a shell exploded 30 yards ahead. We flopped onto the grass and another shell exploded well to our right which hit another Lewis Gun team, all casualties. I told my team to run like the deuce and the next shell landed behind us."
"That was the procedure of the Germans. Fire a few shells and then scatter. Three times that afternoon we were held up for a while. Both our Battalion and the 1/6th were attacking on a broad front, supported by the 1/7th. Little did we know it was our final objective of the war."
"We dug in, in a sunken road. Some staff officers congratulated us and made the remark that the war is nearly over as they have captured some submarines in the Channel. Colonel Tottyremarked that their boys (the Germans) had had enough."
Ceasefire
"We arrived at a town called Evin Malmaison. It was a nice small town, where the Germans had a Prisoner of War camp, we were billeted nearby in empty houses. The nearest large town was Douai about ten miles away."
"On the 10thNovember we went on parade as we were going on a route march to keep fit. Our Officer, Mr Jones, was inspecting us when all of a sudden a few of the band started playing the National Anthem. It was a surprise to us all. An Officer ran down the street waving his arms shouting that the Armistice would be signed the next day."
"I had a cousin, Harry North, in the Army Service Corps, so I told my No2 to make excuses if I was missed and off I went. I walked a good five miles before finding them and giving them the good news. I stayed for tea and stayed overnight, celebrating. I was not missed at all!"
"After three or four days spit and polish it was nothing but route marches and lectures. During one lecture he painted a black picture of dole queues. He asked if any of us wanted to stay on for another year. I was one of the first to step forward. There were 19 of us signed a paper to stay on in the army."
"One thing that came in handy was we were able to have a good wash and clean our clothes, not forgetting to do some de-lousing."
"We sure had a smashing Christmas Dinner. Lots of turkey and pudding with rum sauce. It was funny as it was all served on cardboard plates. Chaps were licking their plates like cats and dogs."
Army of Occupation
"We took things very easy and second week in January two of us were told we could go on leave for seven days in England. We got back to France on time but the RTO Officer didn't know where the Battalion was. We had no money so he gave us ten franks and stamped the date in our Pay Books."
"Anyway for the next three weeks we were in various rest camps and getting really fed up. Finally we got to St Omer. Another RTO Officer put us on a train to Germany and we had to asked to be put off at a place called Erinfeldt. Our Battalion was billeted in an empty engineering works, our company in a warehouse."
"We finally arrived in Cologne looking more like hobos than soldiers. Tired and scruffy. On arrival we were escorted to the guard room and told we were being charged with desertion. I said that we did get back to France on the proper day. He said, do you have proof? Of course, and our Pay Books proved our whereabouts. He sure told the Sergeant off."
"I used to go to the baths twice a week and on guard duty on the docks quite close to the Hohenzollern Bridge for two weeks. One time when the Germans were getting awkward over the peace terms we went over the bridge further into Germany. I liked it there as there was a building close with twenty thousand bags of flour in it. They made the most comfortable bed."
"I was in Germany and to me it was one long holiday and our money went a long way. I think it was over 1.50DM to the pound."
"After returning from leave the Division had acquired 500 new recruits. My first day back I was stood in a line saluting by numbers. The Officer, Mr Jones, smiled at me, knowing my army war service, then asked me to put up with it for a few days whilst he found me a staff job, which he did."
"After a year on duty in Germany, which included plenty of time off a few of us came back via the Rhine and got to Amsterdam by barges. Then a boat to Harwich. Finally a train to Ripon and that is where I was demobbed. That ended my army career."
Reflections
"I know I had some very rough times over on the Western Front, we sure was very lucky. During my stay over there I had lots of good pals that were not as fortunate as myself. I often think of them as we got on well together. When out of the line we really enjoyed ourselves, singing away to our hearts content."
"I can honestly say the only quarrels I had was with a couple of Sergeants but we privates, we worked as a team. I sure met a lot of swell chaps."
"On the Ypres front I will be honest and say what I felt at the time. I suppose you could say I was a fatalist. My belief was that I could have been in the deepest dugout, but when your time is up, it was up. You were gone. I consider that in my whole life I have been fortunate to have 56 years of happily married life with my wonderful late wife."
---
Tagged with:
More posts: