Posted on:
It was a cold, clear morning as a large band of Nomads congregated at the car park at the town of Pantano de Bermejales. Today was a first for all of us, a trip down the river gorge of the Tajos de Bermejales, northwards towards the town of Cacin.
The initial few kilometres provided a gentle introduction to the rigours to come. Ahead the gorge just hinted at it's magnificence rather than laid all it's wares to view.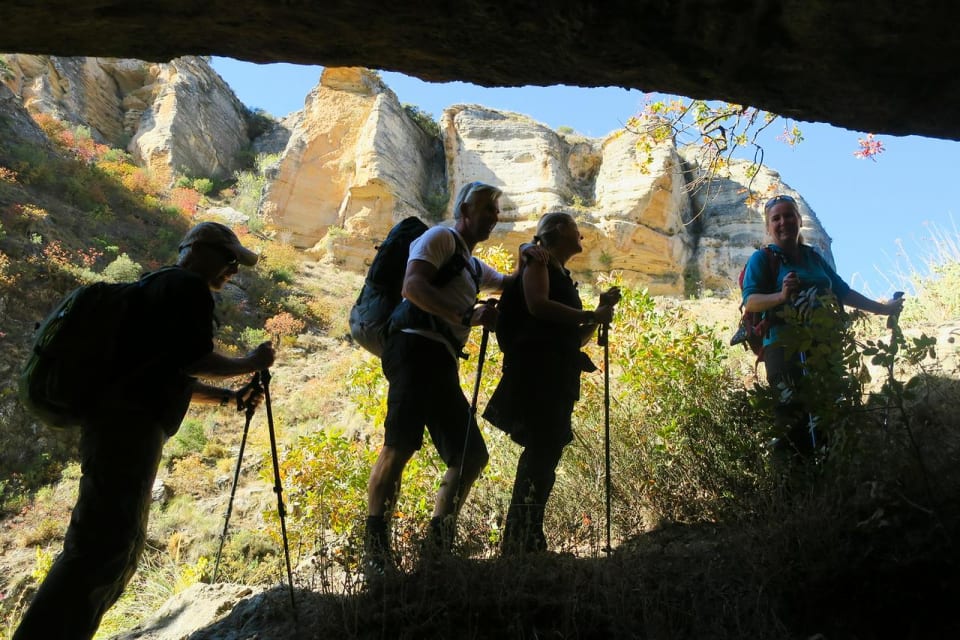 Unexpectedly, we arrived at a series of rungs and a ladder climbing a near vertical rock. What? I had expected simple wide paths as this walk is frequented by many people, especially at weekends. Nevertheless, the Nomads gritted their ageing teeth and climbed the impasse with much aplomb.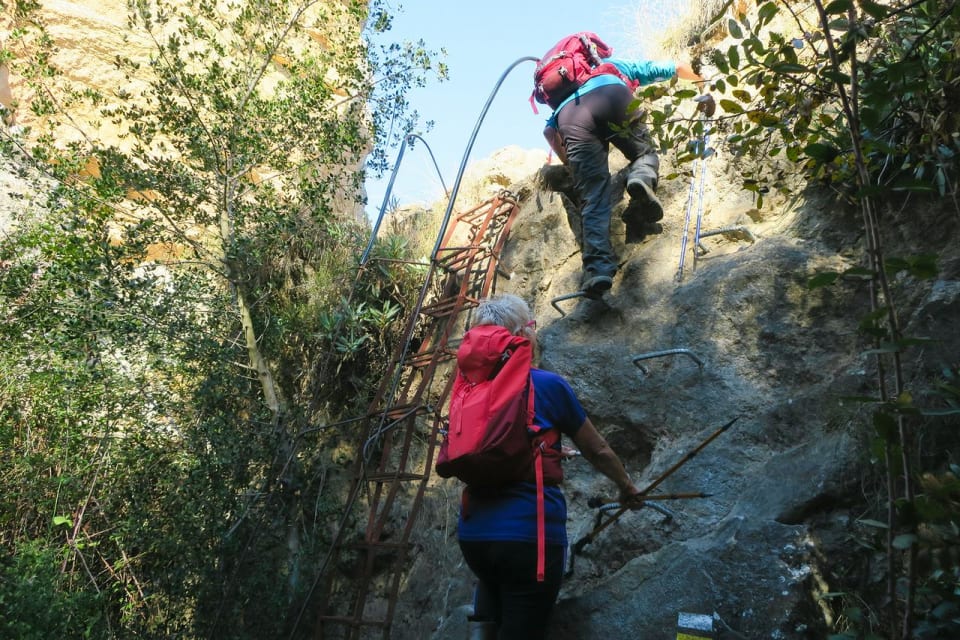 What followed was incredible. A series of steep undulations of the path, at times necessitating the use of rope handrails or metal rungs built into the rock. It was easy enough and could hardly be termed "via ferrata", but did get the old juices flowing.
The Nomads tackled each obstacle with the fortitude we have come to expect, scaling vertical faces or descending steep rock walls is second nature to this band of intrepid adventurers!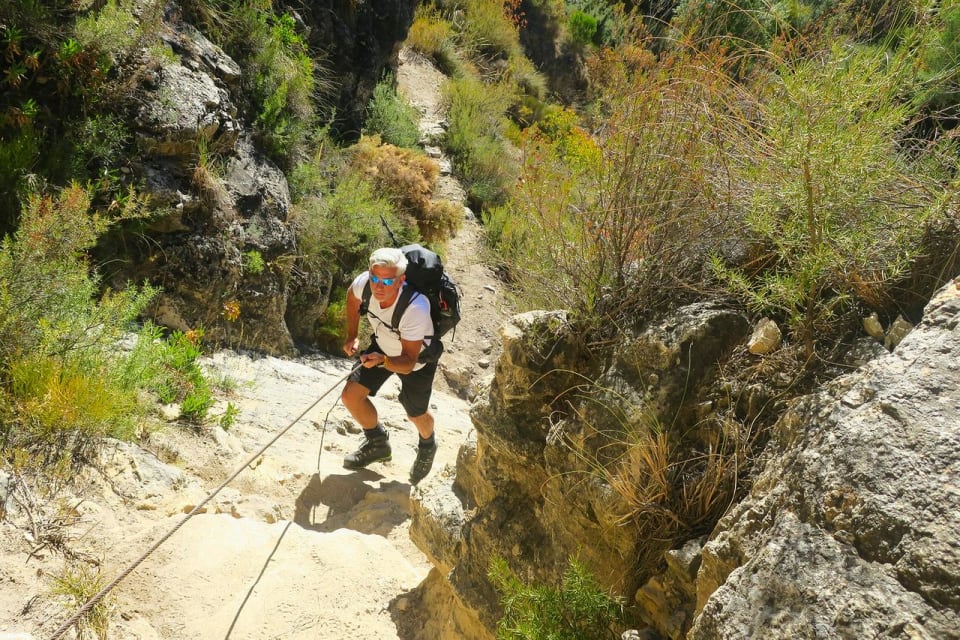 The gorge also did it's very best to show off too. Overhanging, multi coloured sandstone walls lined the sides and the valley floor was covered with lush vegetation lit up by autumnal colours and outlined by the sunlight. Above, against the blue sky, flew a pair of the rare Bonelli's Eagles.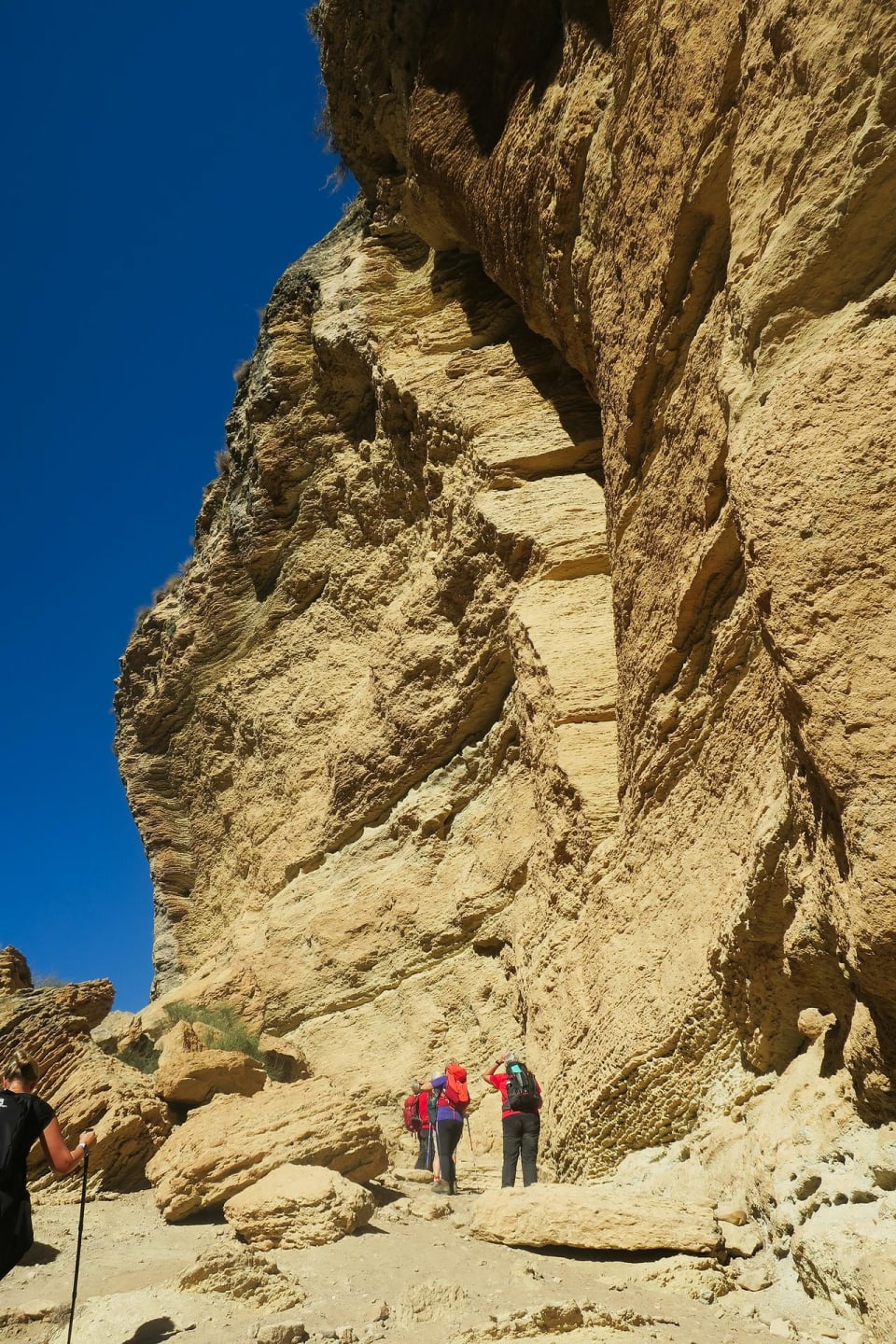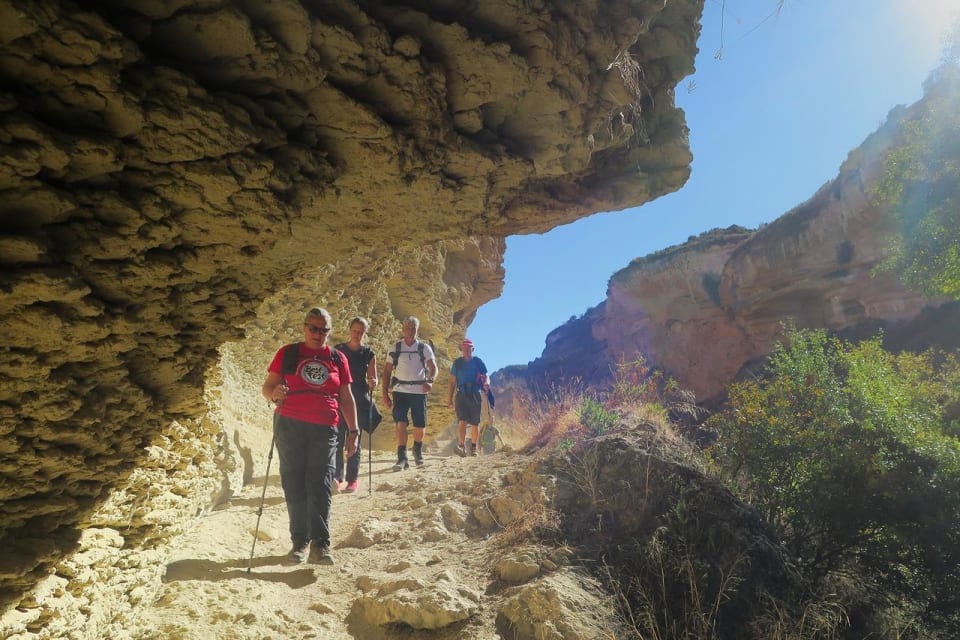 Some of the rope assisted ascents and descents had sections of either rather frayed rope or maybe rope that had first accompanied Mallory and Irvine on their possible ascent of Everest in 1924.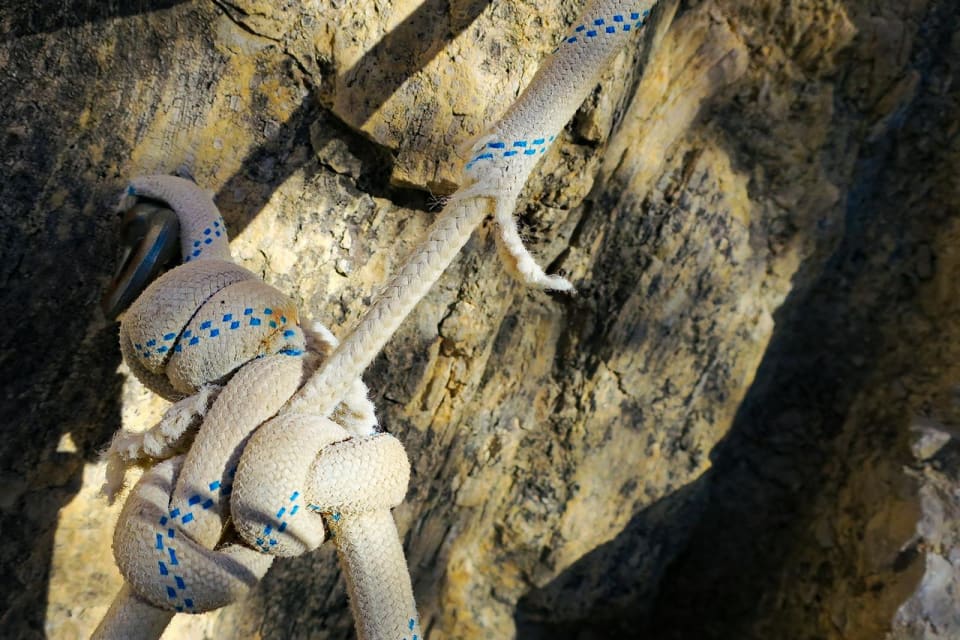 Towards the lower part of the gorge we had to crouch low to avoid overhanging rock on the right and the river to our left. A series of bridges had been constructed to cross the river. These swayed alarmingly as one started across the wooden struts, contemplating the normal standard of spanish workmanship! All doubts evaporated after the first bridge though and thereafter we met each swinging bits of, cobbled together, wood and wire with renewed resilience.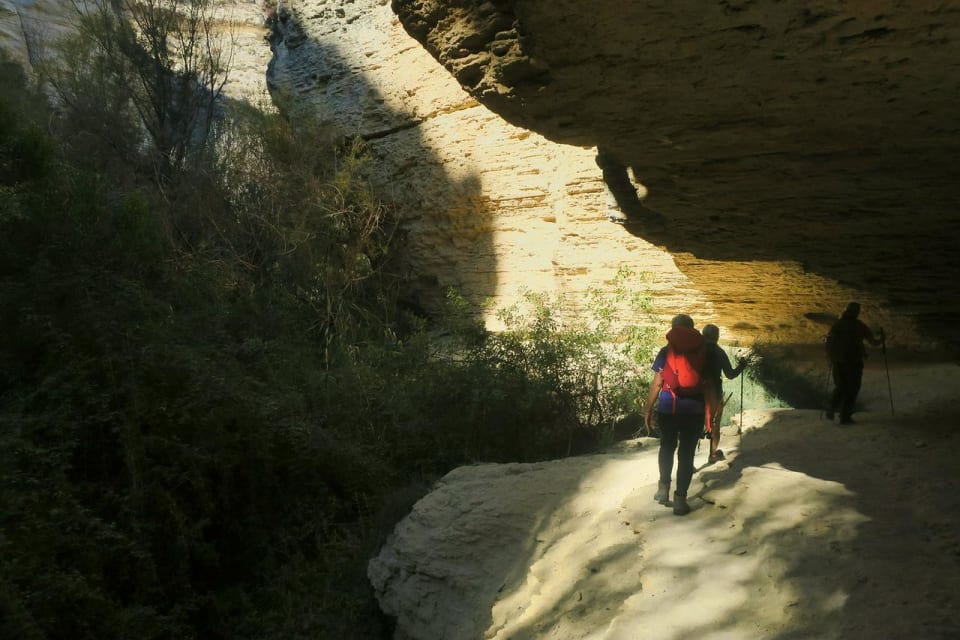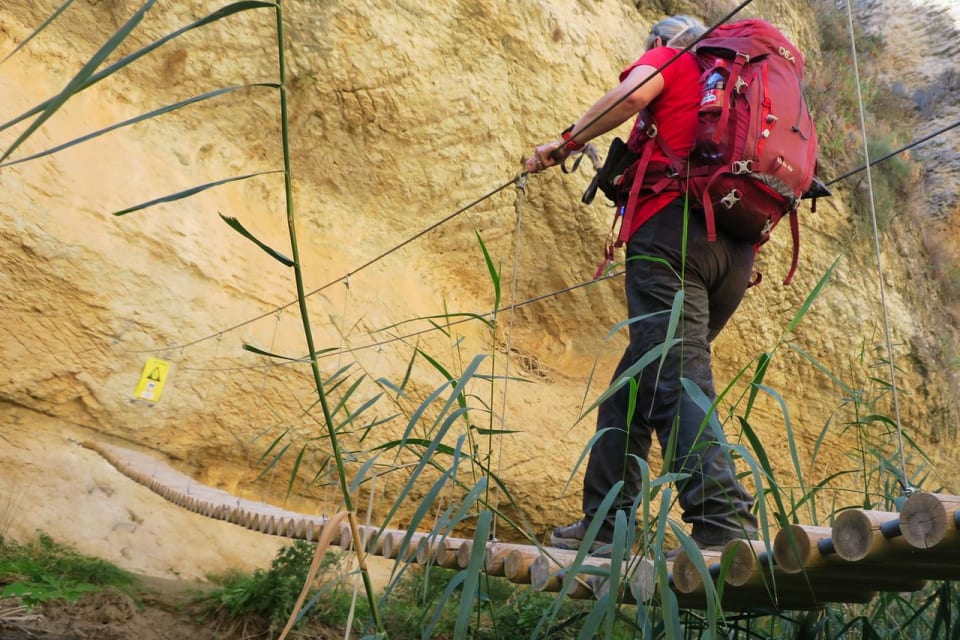 After 3 hours we reached the end of the adventure. We lunched by a bridge before tackling the, rather boring, 2 hour road walk back to the car park. If we did this again, which I certainly will, a car at either end would be of great assistance.
The whole route took us 5.5 hours. A long time for 12km with only about 400m ascent/descent. But, we were a group of 12 and with no more than 2 to a bridge crossing or 1 person to a rope handrail it was necessarily slow going. This didn't matter as the spectacular scenery more than compensated for the waiting.
Another superb day out with the good folk of the Alpujarra Nomads. Thoroughly recommended!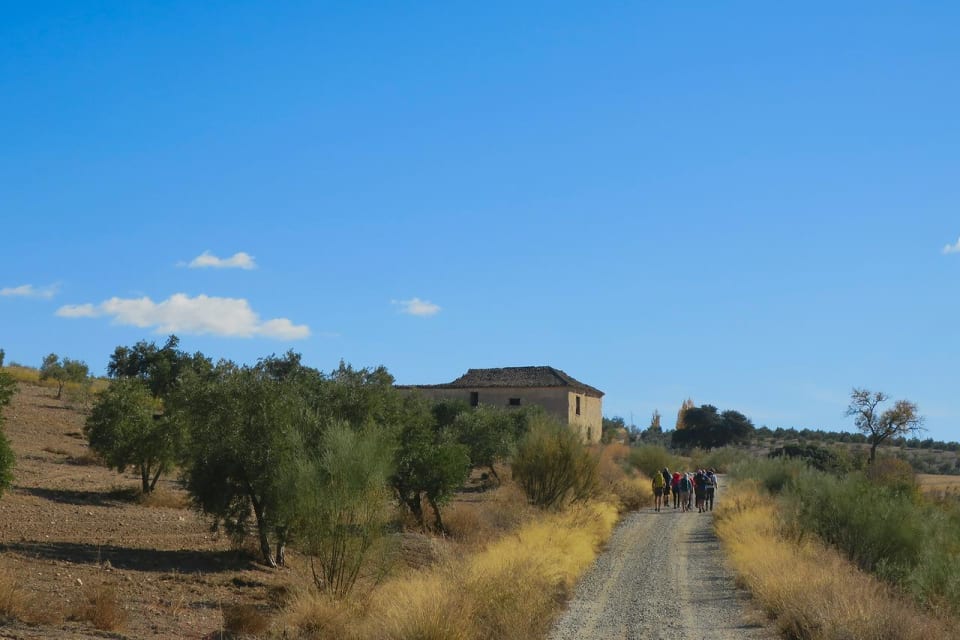 Smugmug Photo Album
---
Tagged with:
More posts: