Posted on:
It's now summer in Andalucia and the heat of August has made me decide it's time to venture back to the freezer known as Kamchatka to cool myself down and try and get this story finished. Some of the photos in this post are again courtesy of Martin Hartley, who has now returned from his expedition in the Arctic.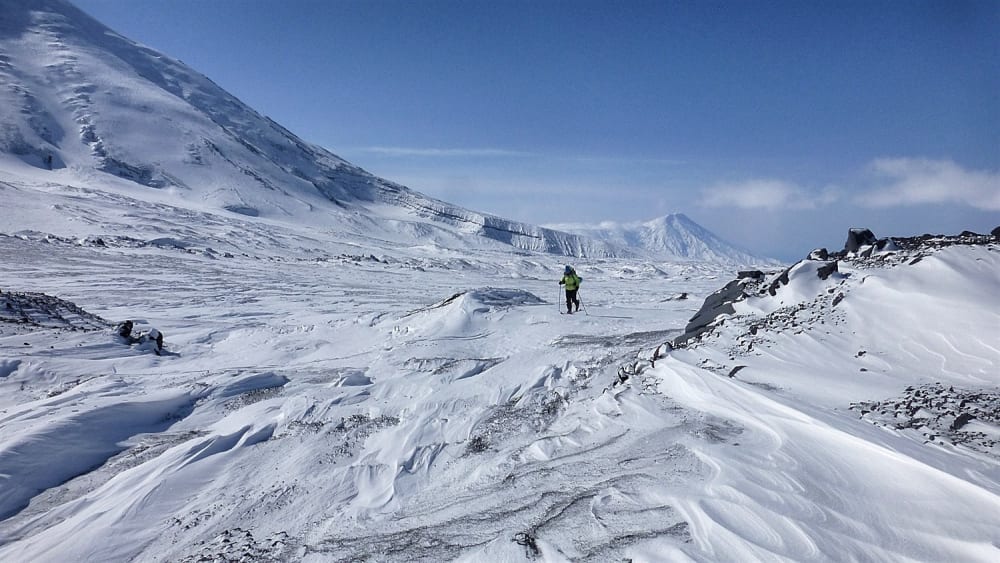 Heading across the volcanic landscape
22nd April :- -22C at 7.30am the day of escape. Everything is frozen solid. Trying to pack the gear away in these temperatures is very difficult. Everything you touch you end up being covered in ice. The tent is emptied and backpacks are packed by 8am, can't hang around in these temperatures. Only had tea for breakfast didn't fancy food just wanted to be on the move. It took a long time to dig the tent out from the frozen snow in the meantime my feet froze even though I'd got emergency hand warmers in my boots. Warwick gave me 2 sets more, feet came back to life after half an hour. Eventually we get the tent dug out and packed away. We have a quick team photo before me and Richard have to head off to our meeting point (emergency camp)to stop my feet from freezing again. Julia, Warwick and Martin do a little filming and more photographs.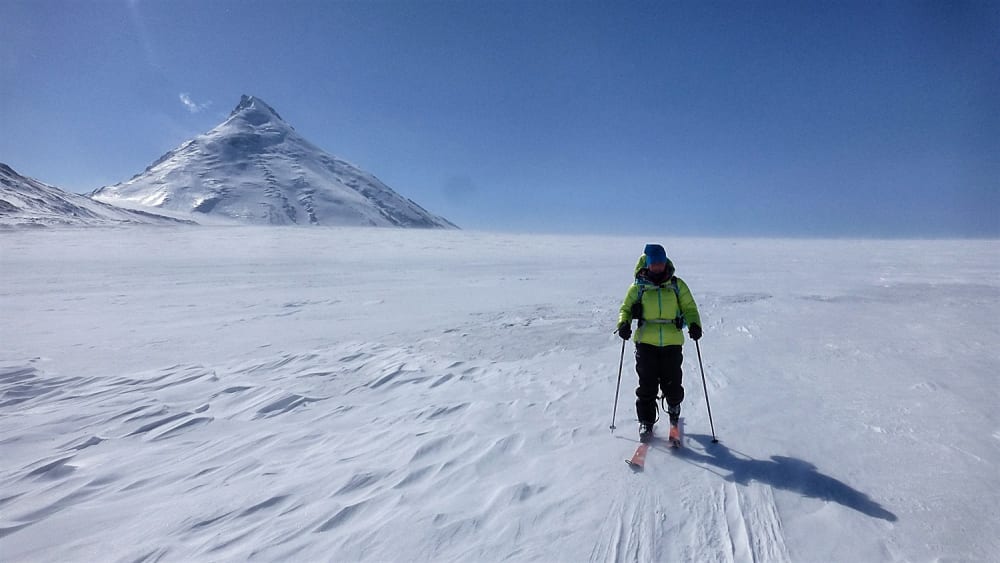 On the plateau with Kamen behind me
I have a great time skinning across the plateau just me and Richard for as far as you could see, what an amazing feeling. The wind picks up but is behind us so is helping us for a change apart from the spindrift that is being blown. Kluchevskoi looks beautiful but she has high winds on her, you can see the snow being blown down her flanks. Igor and Elena pass us on the snow mobile with the gear and head off to the meeting point. Still no sign of Julia, Warwick and Martin yet. Out of the spin drift come 2 snowmobiles, Anatoli and Andre who were due to meet us at emergency camp but are heading to base camp to pick up the rest of the gear and Julia, Warwick and Martin. We exchange quick hellos and hugs and they carry on leaving me and Richard to continue on our way. Very close to the hill below emergency camp the snowmobiles arrive with everyone on board. We jump on for the short ride to the base of the hill and walk up the hill. The wind is now blowing strong. Emergency camp is being taken apart and packed up. Once again freezing while waiting around.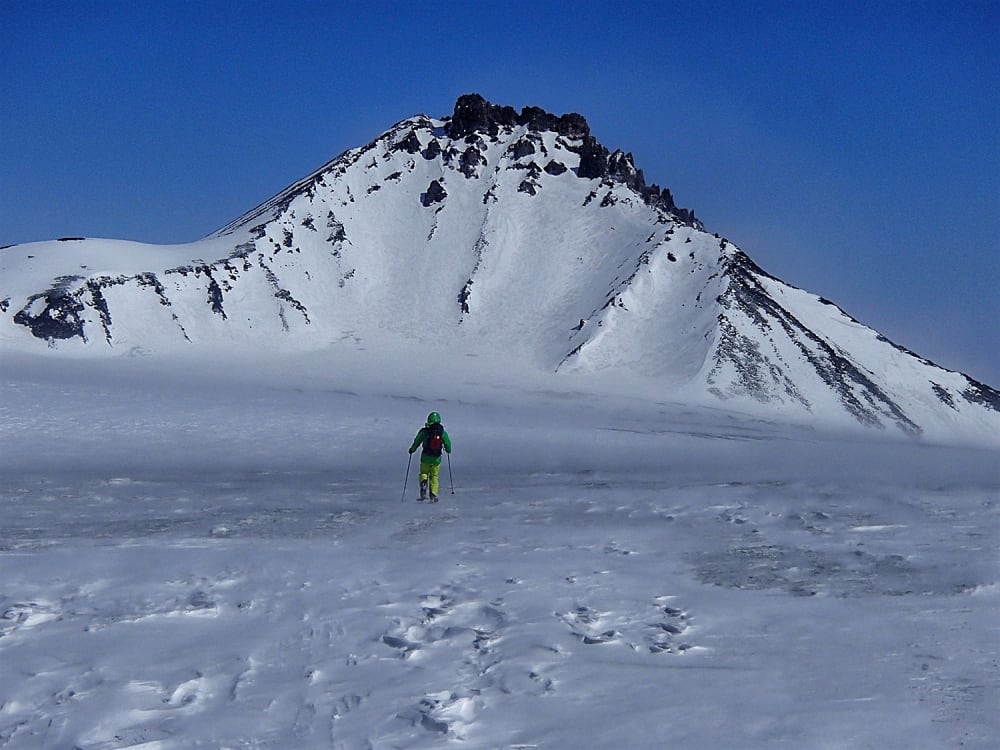 Richard nearing the meeting point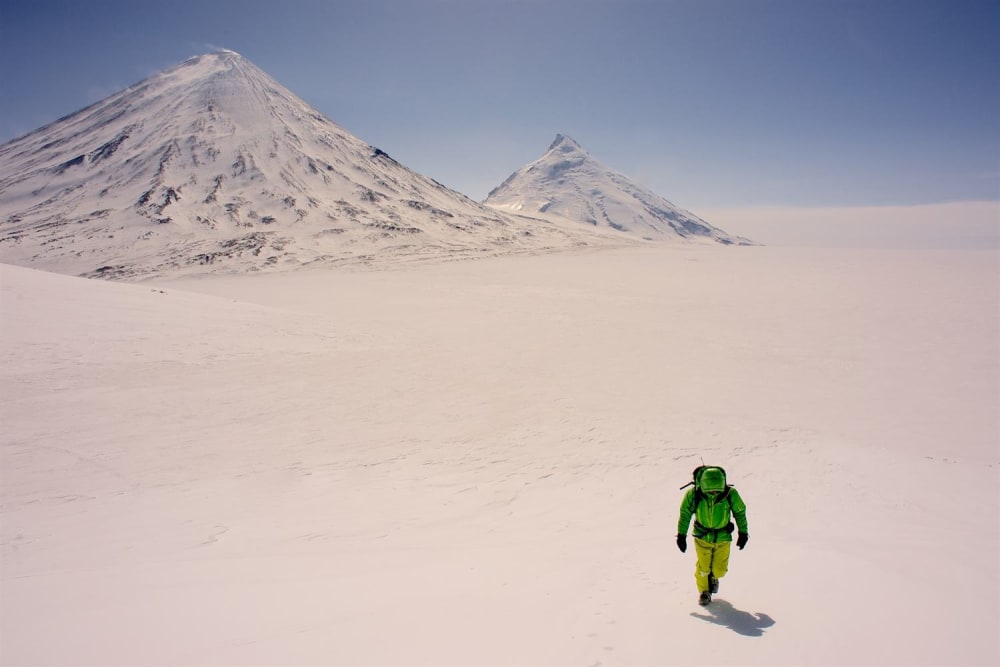 Richard walking up the hill to the meeting point. Photo courtesy of Martin Hartley
After everyone has regrouped we are on our way down, everyone is back on their snowmobiles. Snowmobiles going well over the frozen snow moving easy. Fantastic scenery but because the weather is closing in behind us there is an urgency to get down lower to more shelter. Wow how things have changed in the time we have been away, Spring has reached lower altitudes. We stop on a frozen lake. Igor takes Julia up a slope, comes back and gets Martin, drops him off on the slope. Julia is going to snowbored down the slope and Martin will photograph her. They do this a number of times. Great watching and enjoying being lower down. Before long we are on the move again. Igor is like a man possessed with his driving. He launches his snowmobile Warwick was hanging on to the sledge for all it he was worth and Martin was thrown off! All a bit of fun.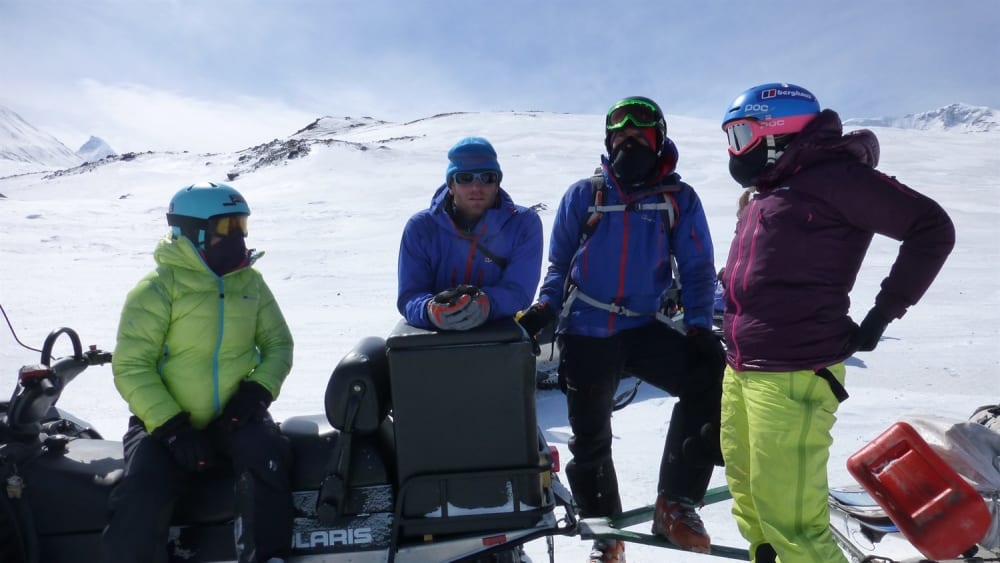 Taking a quick break, still with face masks on, apart from hardy Martin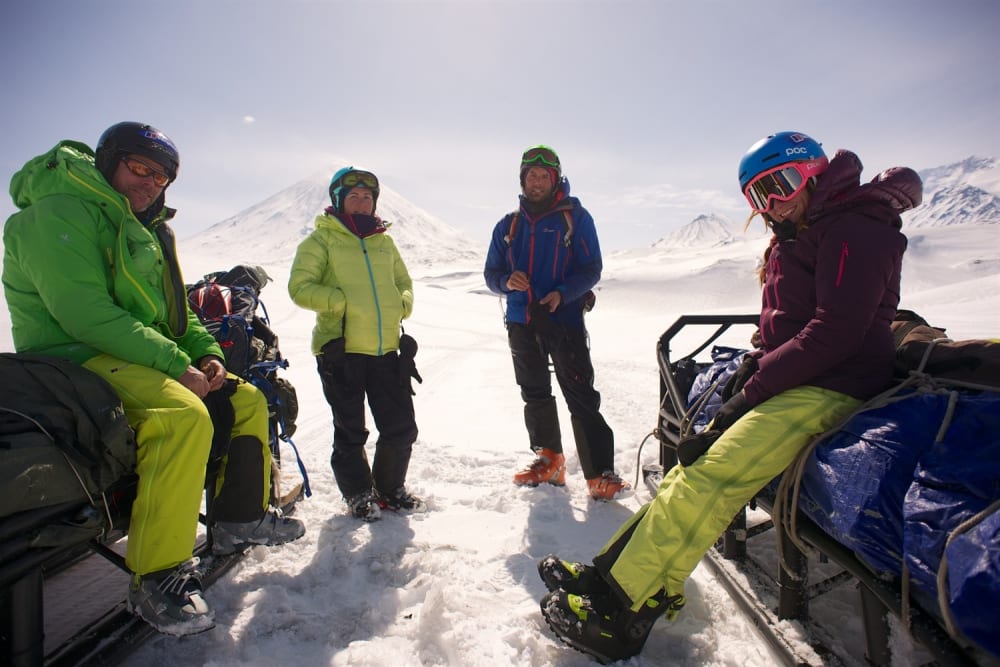 Having a rest having got lower down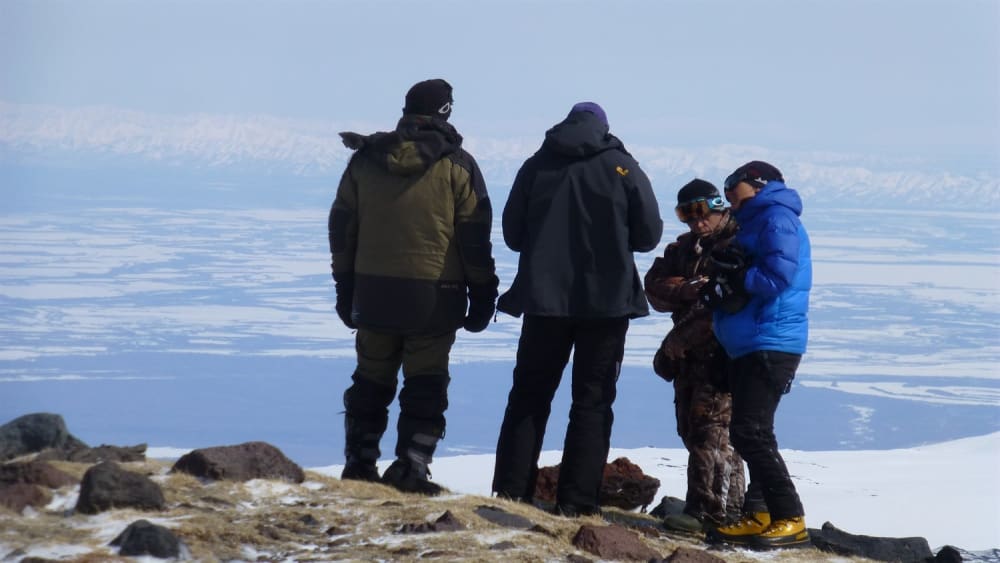 Not sure what he discussion was about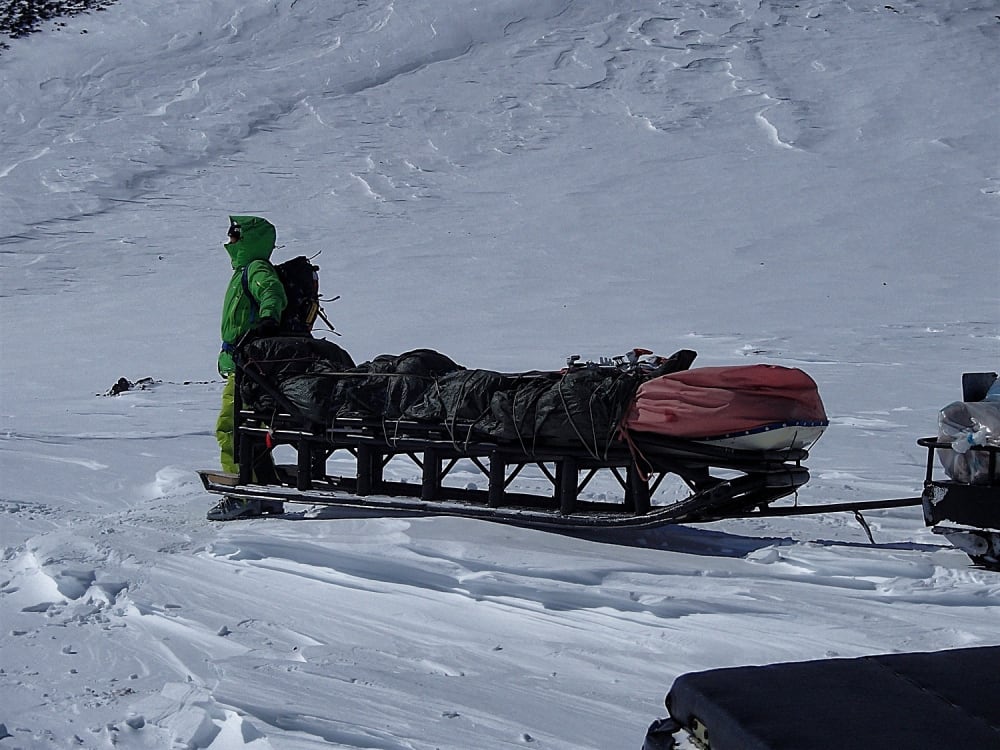 Richard waiting for another snowmobile to catch up
The scenery is simply stunning, getting wonderful views, but nobody can take photos as everyone is hanging on for dear life. We eventually reach the dreaded forest again, but a trail has been cut so not too much branch slapping. The roads now have no snow on them. Me and Elena get off at the first road and walk back to the hotel. Anatoli takes the snowmobile to his 4x4 to bring back to the hotel. We lost the others in the forest, they went a different way to us. They ended up at the house of Andreas, unloaded everything then were driven back to the hotel.
How nice was it to be back in some sort of civilisation, it was bliss. Warwick was first in the shower, then me, Julia, Richard, Martin, Igor and Elena. You have no idea how good warm water feels, we are all feeling great. While everyone was showering Warwick went and brought beers. It seems we enjoyed ourselves we went back to the shop two more times and brought a bottle of vodka and 30 beers all in all. Elena cooked dinner. A very happy tired and relaxed group. Igor went with Anatoli and his family to eat. Sleep came very easy tonight.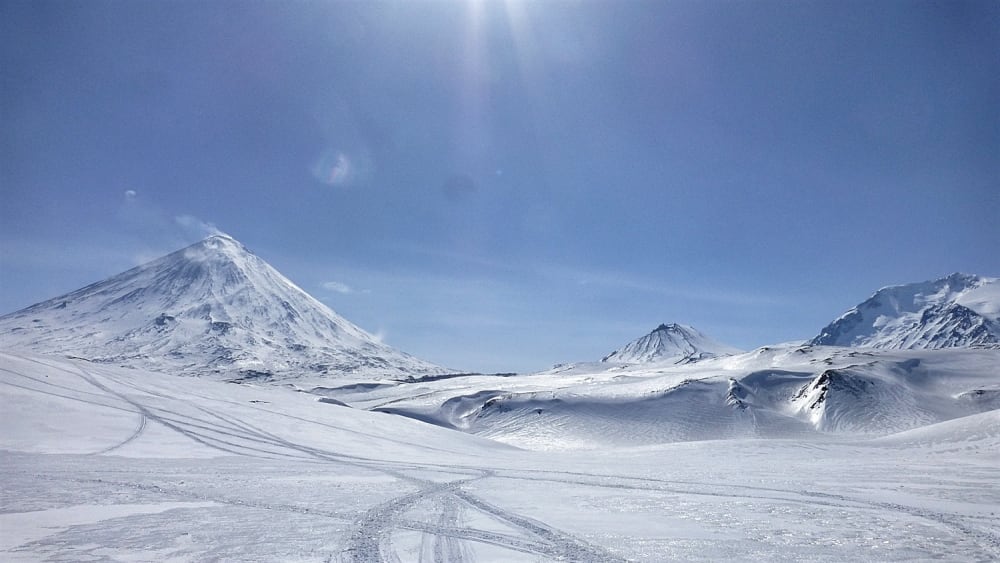 Enjoying the scenery while Martin took photos of Julia snowboarding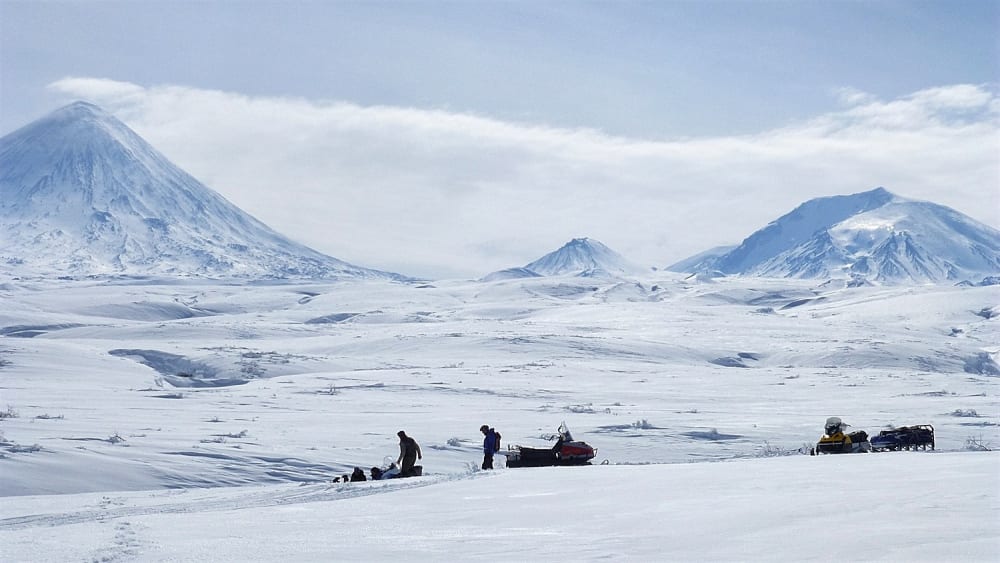 One of the snow mobiles stuck in the softening snow
Animal print next to human hand print. Any ideas what it maybe?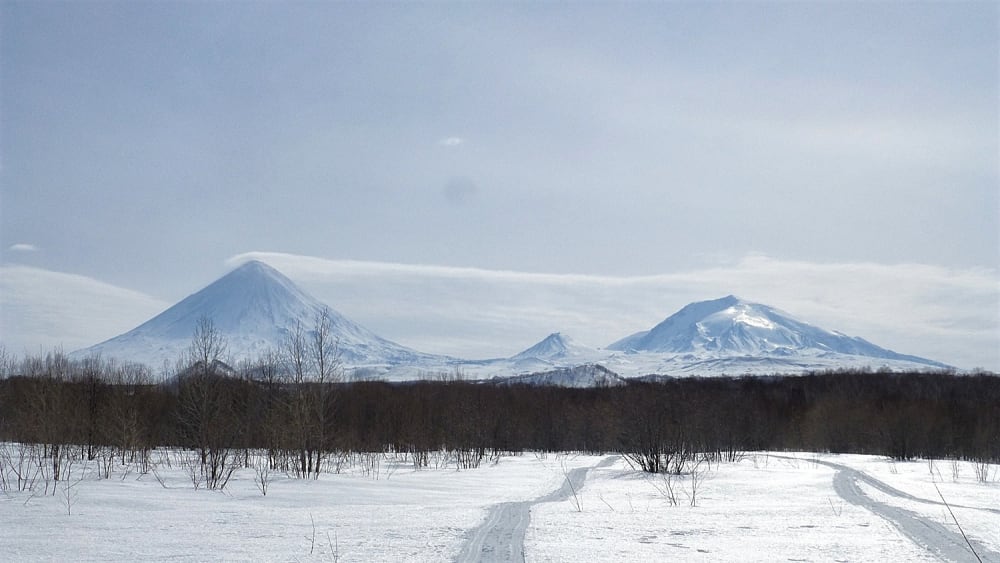 Our last look back at where we had come from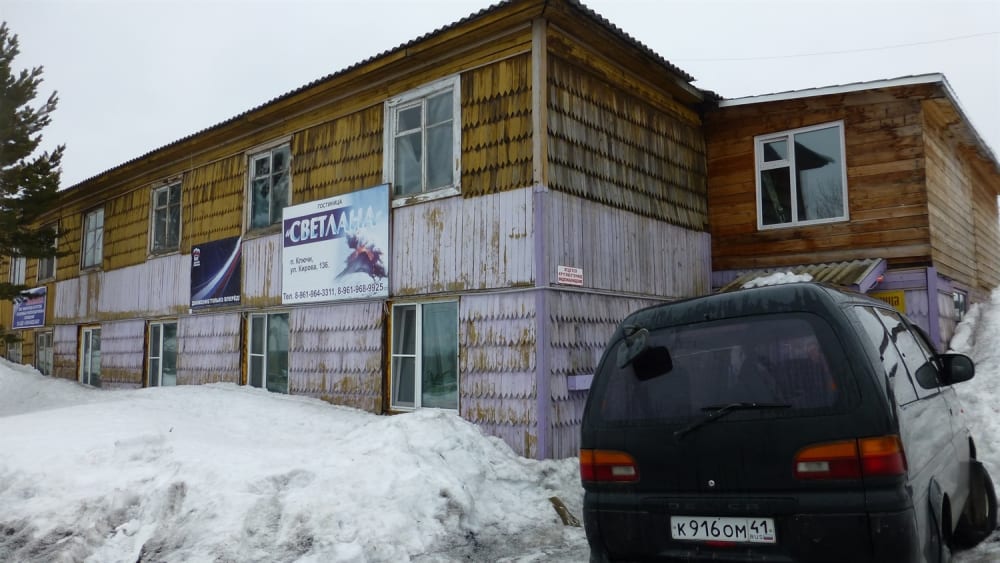 Home sweet home, our hotel in Klyuchi
23rd April :- Awake early, it gets light around 6am, pack everything up. Breakfast at 8am. Igor and Elena are driving the pickup with the snow mobile and all the gear and we five are being let loose on our own and catching the bus from Klyuchi to Yelizovo, this is going to be such fun, nothing like traveling in a country where you don't understand the language. The bus will leave at ten to ten and will take ten and a half hours-ish.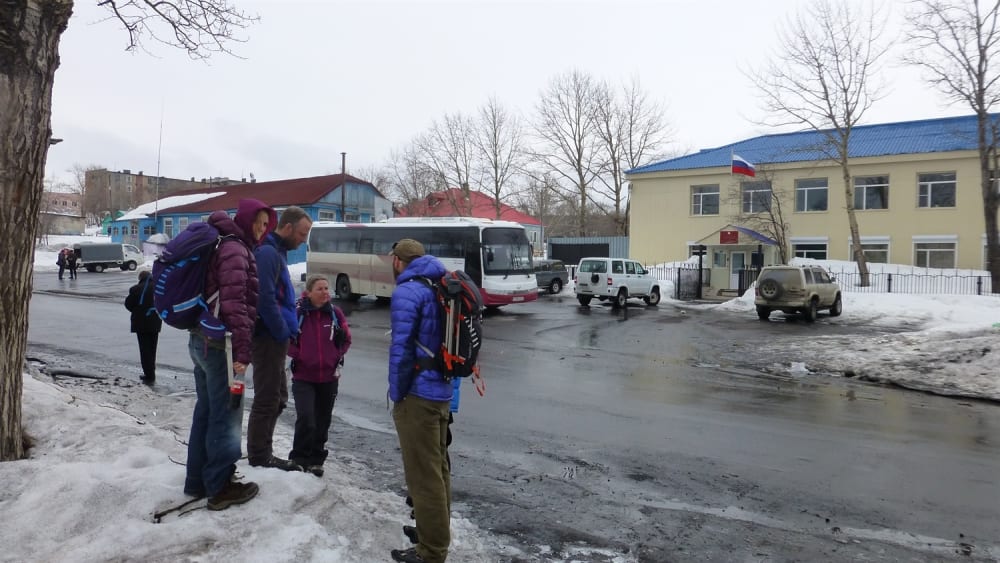 The bus is there but we are not allowed on it yet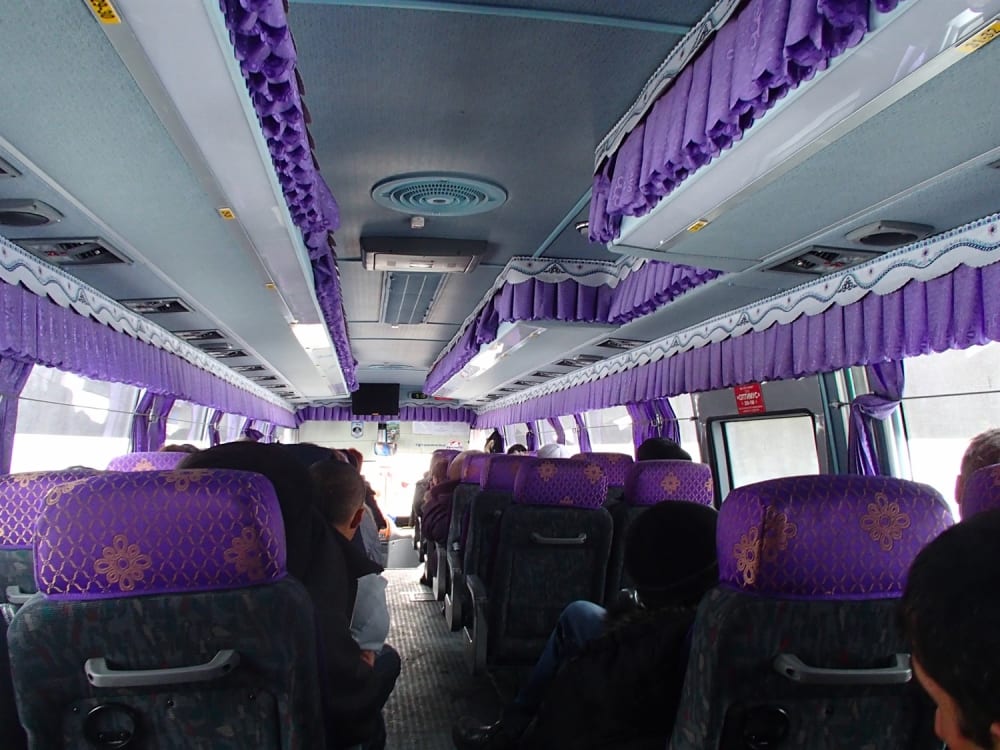 On the very purple bus for the next 10.5 hours
Well the bus eventually left at ten past eleven, it had to wait for another bus coming in from the coast that was late and had people on it that were booked on our bus. The novelty of being on the bus wore off after 2 hours. It stops often on the side of the road for toilet stops. Travel in this area is difficult, more so for woman who have to clamber over snow banks and into the forest. I was too scared to go wondering in the forest, I did not want to meet one of those big brown hungry bears that were waking up! Eventually the bus stops in a town and everyone gets off.
Turns out this is our lunch stop for half an hour. We follow everyone into what looks like a working-mens club but in fact it is a cafe. The toilets were disgusting, even worse than Spanish toilets. The food was good apparently, Richard and I didn't eat, we had enough goodies to keep us going. Warwick just pointed at random stuff on the menu, he had no idea what the food was until it turned up. At another stop many hours later we managed to point our way to buying crisps, coffee and soft drinks.
Eventually we arrive at the place where we are to phone Martha to arrange a pick up. We arrive in Yelizovo at 10.30pm where Martha picks us up and god bless her she had ordered us pizza, yay, we stuffed ourselves, had a beer, then off to bed.
Only one more post to go now.
---
Tagged with:
More posts: