Posted on: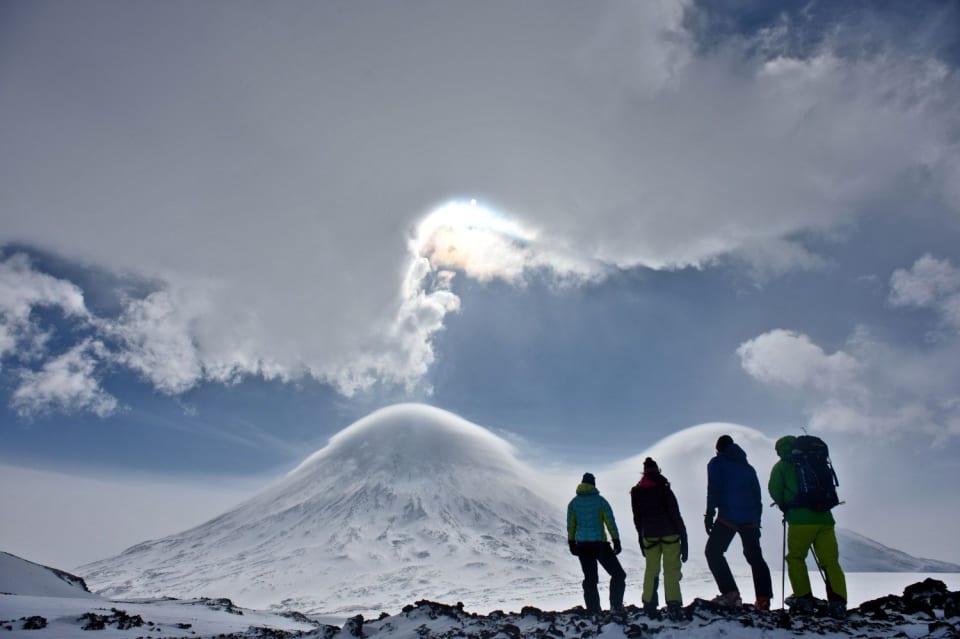 Our expedition to Kamchatka in 2013 to ski Klyutchevskoy Sopka was an unforgettable mountain experience. Hard, tough, weather against us. But we loved it!
Expedition Summary
In April 2013, Kiersten Rowland and I of Spanish Highs Mountain Guides joined a team led by British snowboarder/mountaineer Julia Pickering attempting to become the first people to climb and snowboard down the largest active volcano in the Northern Hemisphere, Kamchatka in far eastern Russia. The team's main sponsor was outdoor clothing and equipment manufacturer, Berghaus.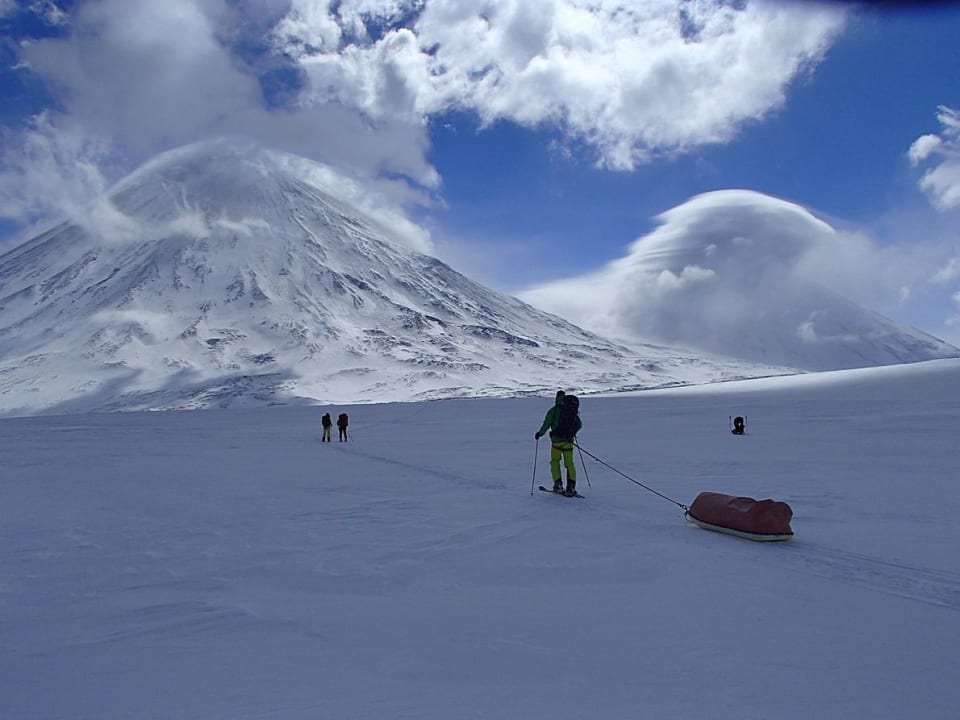 Klyutchevskoy Sopka 4750m is a stratovolcano, the highest mountain on the Kamchatka peninsula and the highest active volcano in Eurasia and one of the largest volcanoes in the world.
Kamchatka in 2013 was an unforgettable experience. Hard, tough and the weather was against us so we had a lot to contend with. My partner, Kiersten kept a diary of our trip that reflects very well our thinking and situation. I have posted links below to the relevant sections.
Team members met in Moscow on 7th April and headed east on the 9 hour flight to Petropavlovsk-Kamchatskiy in Kamchatka. There we met up in the city of Yelizovo with Martha Madsen of Explore Kamchatka who were our in-country organisers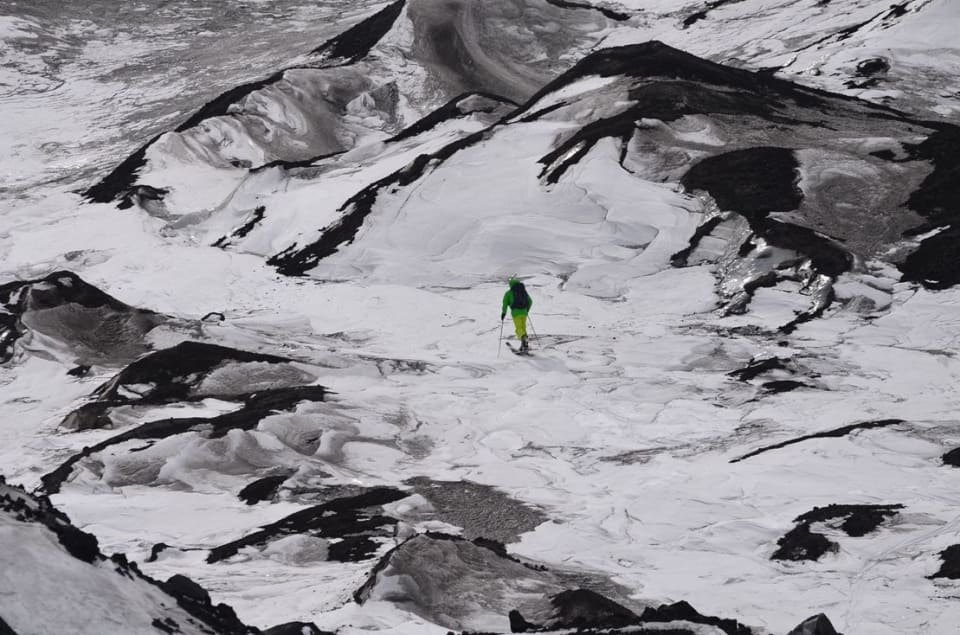 Note re our gear and equipment – we were fully kitted out with top notch Berghaus clothing. As you would expect this worked superbly and kept us well protected from the savage elements.
Many thanks to Berghaus and Julia Pickering for the opportunity to join the trip! Photographer Martin Hartley and Warwick Pickering made superb team mates and not forgetting the superb guiding of Igor Sesterov and the cooking/laughing skills of Elena Bulatova!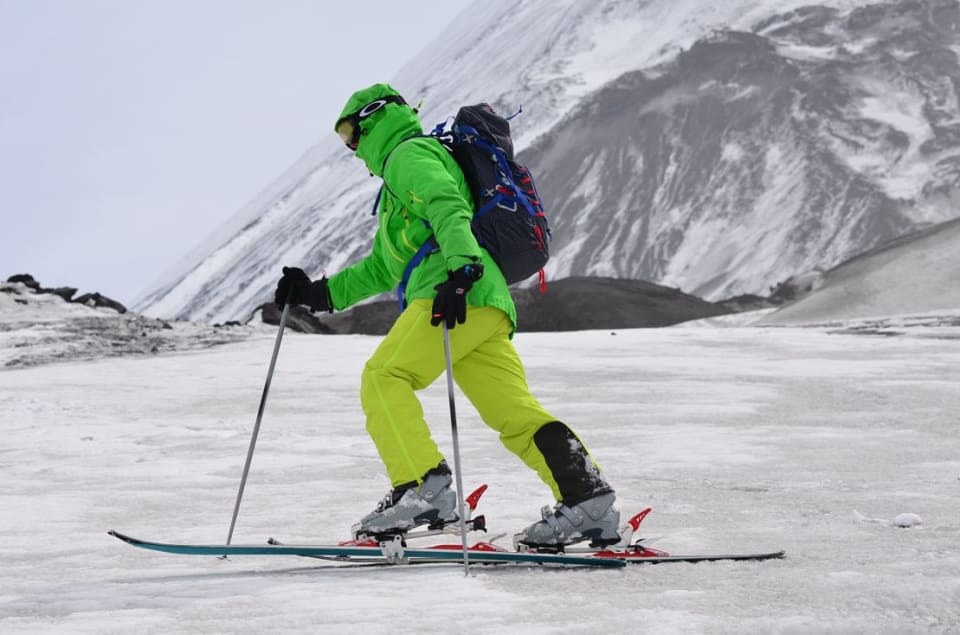 Short summary
A tiring 11 hour 4WD drive followed through the taiga northwards to the town of Klyuchi on the banks of the Kamchatka river
An attempt to reach base camp via snowmobile was aborted due to poor visibility and high winds
Advance base camp established in bad weather on the high col (2700m) between Klyutchevskoy Sopka and Ushkovsy
Ski across the plateau in good weather to establish base camp at 2750m below the col between Klyutchevskoy Sopka and Kamen
Acclimatisation trip to 3300m to the colbetween Klyutchevskoy Sopka and Kamen. Weather worsening during the day
6 days bad weather. High winds at altitude. Very cold (-20+). Tent bound. Days spent reinforcing snow walls and clothing product shoots
Ferocious winds of over 120km/hr containing volcanic rock destroy a tent and damage others
In a short break from the bad weather we make an escape via ski and snowmobile back to Klyuchi
We returned to Yelizovo where we had a day on the local ski pistes followed by a 2 day ascent of Avachinsky volcano (2741m). A return to Moscow was made on 29th April.
We were blighted by incredibly bad weather, high winds and very cold temperatures for the time of year. Having said that the whole trip was a marvellous and unforgettable experience in the Kamchatka wilderness.
As Julia Pickering said on her Twitter account
Back in civilisation after 100 mph plus wind/snow/volcanic rock storm tore our camp apart. With more storms forecast, we had no option but to take v small weather window and get out. V disappointed to have not achieved our objective but team safety was primary concern. We still had an epic adventure and she'll still be there next year and will hopefully be a bit less angry.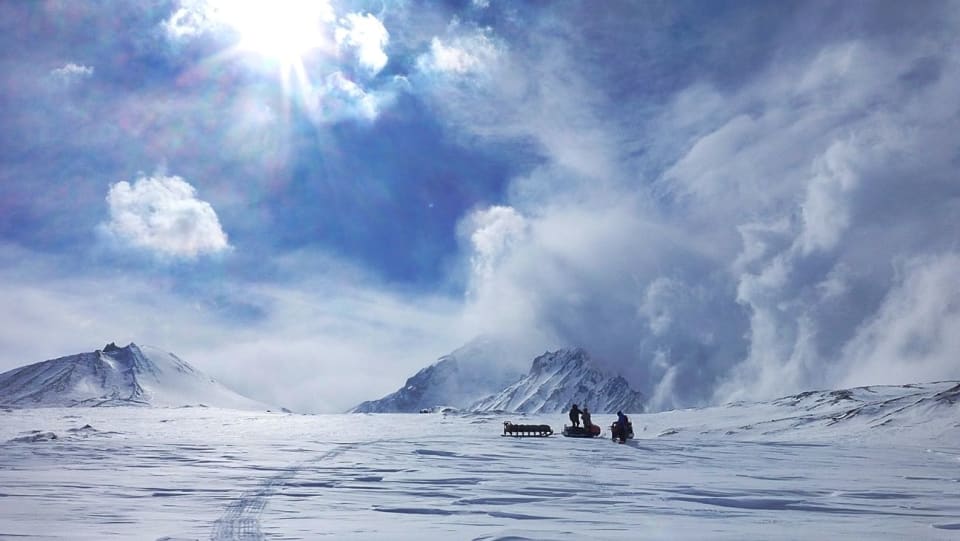 ---
Tagged with:
More posts: