Established 2002. Website written by a human with no trackers & no ads
Adventures of a mountain lover, heart attack survivor & grumpy old man
The original "Perro Negro" was my black labrador, Rocky, who came out to Spain with me in 2002 and was a faithful if somewhat wayward and uncontrollable companion!
I'm an ex boring accountant and now retired mountaineer & adventurer. Been living in Spain's Sierra Nevada for 20+ years. Set up and ran Spanish Highs Sierra Nevada until my daughter took over in 2020. I'm the current Cicerone Guide book author to the Sierra Nevada. I have run 6 expeditions to the Patagonian Icecap and in 2013 was invited onto a Berghaus sponsored expedition to ski volcanoes in Kamchatka.
Are you interested in anything to do with Mountains? Mountaineering, Scrambling, Multi-day Trekking, Day Walks or maybe just viewing their immense beauty from a distance? Do you also enjoy Landscape Photography? Have you an affinity with Spain and an immigrants life here? If so, then this site may interest you.
Dog lover, heart attack survivor & Grumpy Old Man!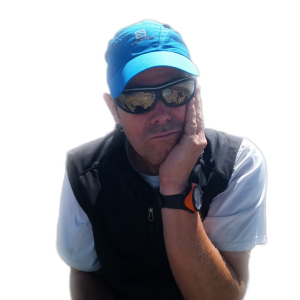 Latest Posts
Tags
More posts can be found in the post archive.
Mid Life Crisis?
I had mine at 45. I walked out of the well-paid Financial Directors role and turned to that great passion of mine, the mountains. I had been training as a mountain guide on a part time basis since 1983 so it was a logical move. Now for the dream? We ran trips to Scotland and the Alps. I always thought I would buy a place on the west coast of Scotland.
Spain
Then in 2000 I was forced to go on a group holiday to Mallorca. I was expecting lager louts but found and discovered wonderful mountains and sunshine! What a difference to the grey drizzle of a Scottish morning. Instead I was able to walk in t-shirt and shorts amid glorious mountain scenery, the constant smell of fresh herbs around me, and in warm weather. Bliss! That was a turning point, as my love affair with Spain began.
A chance reading of an article in a magazine lead me to organise a 'boys trip' to the Sierra Nevada in southern Spain. There I discovered high mountains, wonderful snow and of course the sun again. Even more bliss! Not only that but the people were friendly, the food was good and it was cheap. Free tapas with every beer meant that we spent nothing on food for a week! Separating from my wife (she married an accountant who became a mountain guide!) late in 2002 gave me the opportunity to totally redirect my life.
South of Granada
I packed my pickup truck with my worldly possessions, my black Labrador dog (Rocky - the original El Perro Negro) and headed south. I never looked back. The first place I arrived at was Lanjaron in the Alpujarras and funnily enough, I'm still here. I love the people, the culture, the tradition, the history, the weather and of course the wonderful Sierra Nevada mountains. I'm still living the dream. I have kept a record of my adventures here in the Alpujarras ever since.
Heart Attack
In March 2019 I suffered a heart attack which necessitated a stent implant and later, a pacemaker and defibrillator. I thought my mountain days were over. They weren't. Far from it, as these pages will testify!
Expeditions
In these site there are many reports from our different expeditions to visit the Patagonian Icecap near El Chalten. We started going there in 2006 and our last trip was in 2016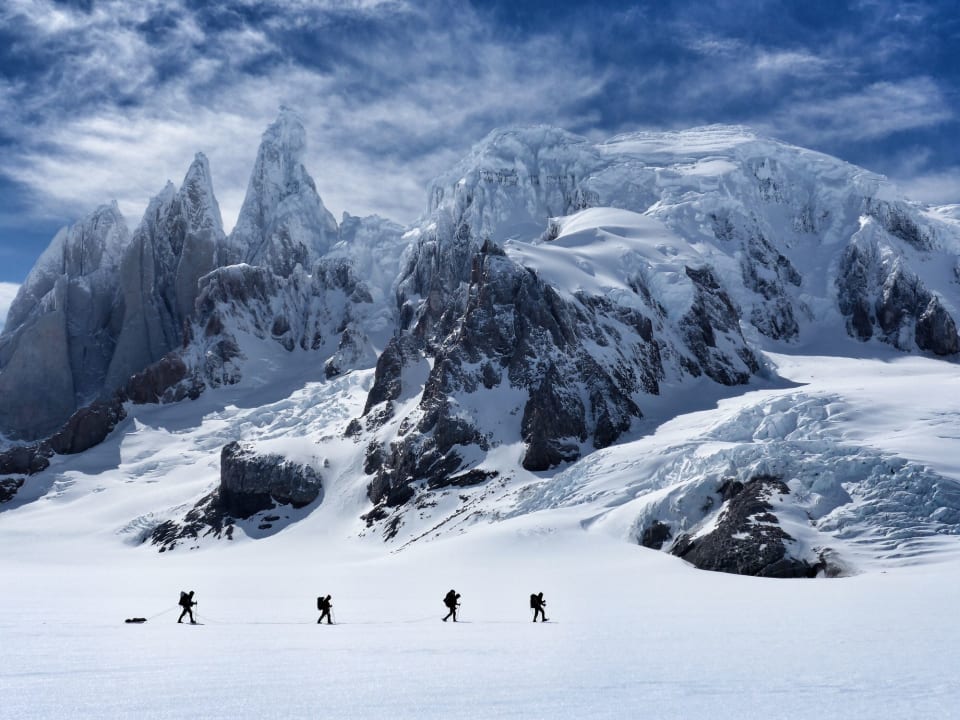 During April 2013, we joined a Berghaus sponsored expedition attempting to make the first ski and snowboard climb and descent of the highest active volcano in Kamchatka, Klyutchevskoy Sopka (4750m)